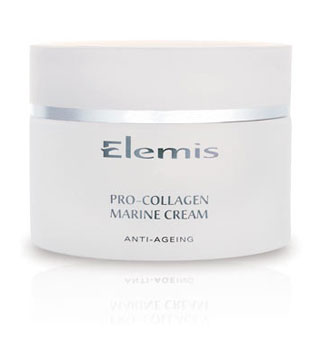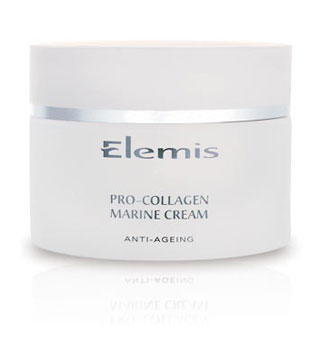 What: Elemis Pro-Collagen Marine Cream. That's quite a mouthful for a simple anti-ageing cream. So first thing's first. Why pro-collagen? Well, the cream is formulated to make skin smoother, plumper and more youthful after just 15 days use, giving "an increased lifting effect through increased collagen support. Righto.
And secondly, why marine? This light cream also contains natural marine ingredients, such as algae padina pavonica which prompts skin cell renewal. There's porphyridum seaweed too, which helps to eliminate cell degeneration and chlorella seaweed to fight wrinkles. Ginko biloba liposomes are also in there which aswell as having a brilliant name, are a vegetable-based molecule that enables deep penetration of moisture into the skin.
The claim: The boast is that this light cream is able to mimic skin's own function and transform your skin in two just weeks. Elemis says it is clinically proven to reduce the appearance of wrinkle depth by 78 per cent and increase hydration by 45 per cent. It is recommended for all skin types, particularly those concerned with premature ageing. Hands up everyone.
The result: Great fresh smell and it also gets top marks for sinking in quickly. Also top marks for the unexpected 3ml tube of Pro-Collagen Lifting Treatment found hiding in the box.
But did using the cream for a fortnight have a visible effect? I naturally have pretty good skin. And where applied to non-problem areas my skin continued to look radiant, and yes plumper too I might add. Although how much this is down to increased consumption of chocolate and crisps, I can't tell you.
Joking aside, the real test for this cream was my problem area, my forehead. For some reason, this area of my body is intent on ageing at twice the speed of the rest of me. Too many quizzical raised eyebrows perhaps. So what effect? It did manage to eradicate dry areas of skin, so a big tick for moisturising. But I had expected fine lines to begin to be plumped out a little more. They, and the rough texture this skin has taken on, is still largely unaffected, even after two weeks of application. Everyone's skin is different, and I expect for problem areas a longer trial my be needed , I will report back.
In the meantime celebs such as Donna Air and Gaby Roslin may swear by it, but for me the jury is still out. No-one ask me any difficult questions for a while , I need to give my frown lines a rest.
Elemis Pro-Collagen Marine Cream costs £75.00 for 50ml and is available at Elemis Pro-Collagen Marine Cream 50ml
Elemis.