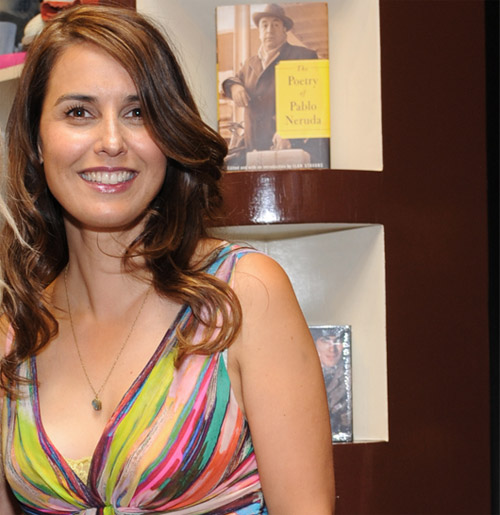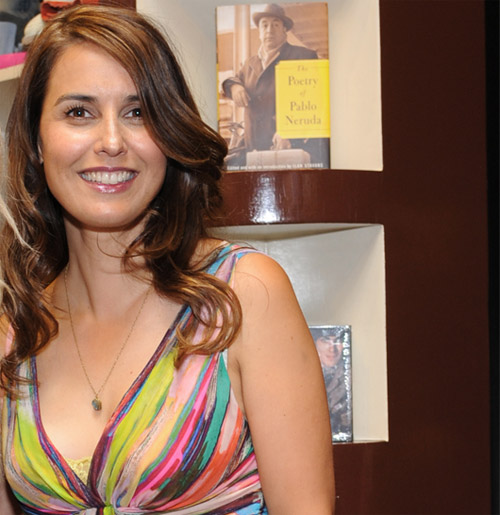 You've watched her swoosh her hair probably thousands of times in that irritating but fascinating way only shampoo advert girls can do. Some may have cursed her for that implausibly shiny hair. Others will have cricked their necks trying to copy it , come on, admit it, you've done it too. So chances are you've already formed an opinion of Kathleen Baird-Murray. From star of the early 90s Pantene shampoo adverts, to leading beauty journalist and acclaimed author, Kathleen's career has been nothing if not varied.
After a brief stint modelling, her first journalistic job was writing for You and Your Wedding Magazine. Moving across to beauty writing "because it was marginally more interesting she went on to write for Elle, Marie Claire Australia and The Telegraph Magazine before becoming beauty director at Tatler , a post she held for five years, until 2004.
But she says she's not a beauty expert. In fact beauty products have never really excited her that much, mainly because she doesn't enjoy receiving a deluge of beauty products to sample:
"I just don't have the space, and also I'm too lazy to run up to the post office and collect the parcels.
Is she human? Actually, in an industry of fluffy editorials and over-written press releases stuffed with gushy adjectives, Kathleen Baird-Murray is a breath of fresh air.
Does she think the beauty industry has got it wrong in the way it talks to women?
"Yes. Too much beauty editorial is dumbed-down. It's very annoying. Most of my jokes get cut. That's why I like writing for Sunday Times Style as they have a sense of humour, also Tatler. Generally, it's as if you read the whole magazine but then get to the beauty bit and become a different woman all together. Someone who only makes a purchase if she knows a certain celebrity uses it. What's that all about?
And the biggest beauty myth she has come across?
"That anti-ageing creams will make you look ten years younger.
It's Kathleen's honesty and wit that made the book she penned while still at Tatler – How to Be Beautiful, The Thinking Woman's Guide, successful. Kathleen was credited with pioneering intelligent beauty writing, and the book was widely praised, not least by The Observer, The Sunday Times and Vogue.
How to Be Beautiful exposed the industry's beauty secrets, interrogated make-up artists, and questioned experts including Eve Lom, Barbara Daly, John Frieda and Christy Turlington, on what made them so passionate about beauty.
So what drove her to write it?
"It's an interest in personalities that has kept me writing. I felt there were many things that intrigued and excited me about the world of beauty but that these weren't always being written about in magazines and certainly not in books. I wanted to use my voice to tell stories about people I felt had something to say about beauty. I didn't want it to be a book in which I pretended to be the expert , I'm not. I wanted to convey their characters and knowledge in a manner that was practical but also entertaining to read."
Kathleen herself, seldom seems to be short of something to say. Living in Notting Hill with her husband and two children, when she's not working on drafts of her next novel, or freelancing for the Sunday Times Style magazine and Tatler, she's posting blogs on her website www.kathleenbaird-murray.co.uk.
The blog is a treasure trove of new product launches, honest appraisals of treatments that do and don't work and insights into Kathleen's life and the people she meets along the way , all with that signature sense of humour of course.
"Blogging has made me more confident in my sense of judgement about what makes a good story or not. I get the final say. It's been great fun to do, and I promised myself I'd only write when I had something interesting to say rather than just for the sake of it. I like to think that keeps it fresh. I also make it quite personal , sometimes you'll read about my kids or my holidays. That's how we live our lives after all. We're not all obsessed with beauty products. We work it into the fabric of our lives.
One of her recent posts covered the launch of Crème de la Mer's latest product, which retails at £518.72. In a world gripped by recession and plagued by wide-scale job losses, does she think the extravagances of the beauty industry can be sustained?
"I think people will always prioritise their spending on beauty products if they think a product really works, for as long as they can possibly afford it. It might be harder for beauty companies to launch new ultra-expensive products now. The best news is that there are a lot of very good cheaper alternative brands and they're thriving.
The interest, nay, mass obsession, with fashion and beauty indeed, shows no signs of abating. But in recent years, fashion and beauty journalism has found itself in the spotlight too. I'm talking of course about programmes like Ugly Betty and films like The Devil Wears Prada.
Kathleen's latest book, her first novel, very much carries on that trend. Face Value, sees British lead character, Kate Miller, a girl with no interest in fashion and a love of charity shops, move to New York when offered a job as beauty editor of Darling magazine. She's put to the test when she has to produce the magazine's yearly plastic surgery supplement, and risks losing the perks of her new lifestyle; the guest-list parties, free products and her trendy apartment.
The book is packed with music references , its own distinctive score , and seems very filmic in the way that it is written.
So did Kathleen pen it expressly for it to be turned into a film?
"As any struggling author knows , that's me , the only way you can make a living from your books is if you stick it out for years and years, keep writing them, and build a readership that is loyal and will run out and buy your latest book. However, if you get lucky and sell the film rights…kerching! Life can be a little bit different. So yes, at the back of my mind. And I think also because I think very visually, I see the scenes in my head. I definitely hoped it would be made into a film. Fingers crossed it still will!
Keep your eyes peeled.
But what of Kathleen's own beauty must-haves? I can't speak to a woman who has been writing about beauty for 13 years without getting a few tips. What does she recommend?
"I always brush my skin before I shower in upward strokes and I swear it makes it extra soft. As far as products go I have a few new favourites and some old faves too. I am obsessed with a new blush from Bobbi Brown which I use on both lips and cheeks in Sheer Raspberry from their new Nautical collection. I also carry a Shu Uemura concealer, and a Diorshow Iconic mascara and my Shu Uemura eyelash curlers.
Other highly rated items on Kathleen's list include a cleanser by Eve Lom, Kerastase hair products and MLab moisturisers.
While at Tatler, Kathleen had what she described as the "dubious honour of producing the world's first plastic surgery supplement. I'm interested to see if she thinks people's attitudes to beauty have changed since she entered the industry.
"We're much more accepting of the fact that we can change what we don't like about ourselves. We're more informed, and as a result beauty companies have had to up their game a little and come up with clever ways to market products. When I started the internet wasn't as widely used as it is now , that gives a consumer a tremendous amount of power, which beauty companies have not ignored.