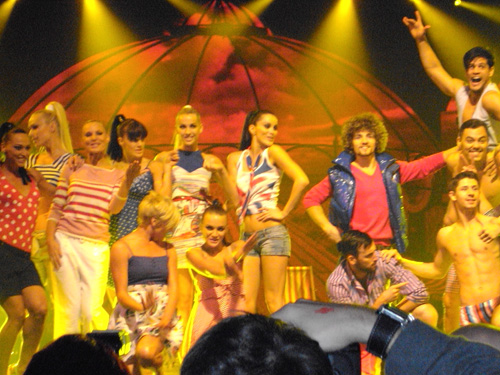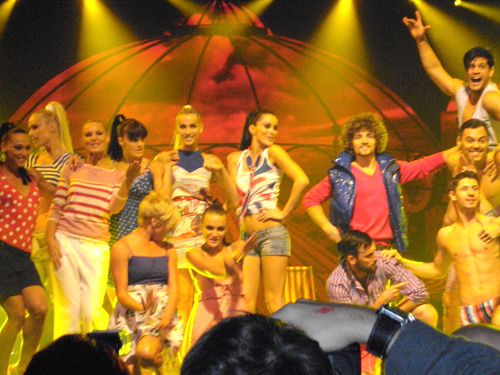 It may have taken numerous forms of transport to get there, but I managed it. I did note another disgruntled Clothes Show-er moaning that a trip to the Birmingham one would have been quicker, and sadly they were right.
But back to the show, I was greeted by hundreds of young want-to be fashionable things, and their mums. This is fashion week for tweens, with lashing of pink hair-straighteners, fake tans and a sprinkling of boyband hysteria. I am not however slating the Clothes Show, for I too was one of these girls, well without the fake tan that had yet to be properly invented. But I dragged along my begrudging parents to its' original home of Birmingham on two occasions as a tween. For me it was wonderful, my favourite high street brands which I could spend my well saved pocket money on. And ten years on, has it progressed? No it's exactly the same except that I am now a fashion savvy shopper and reporter.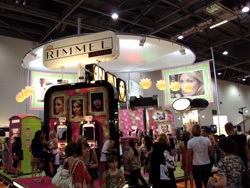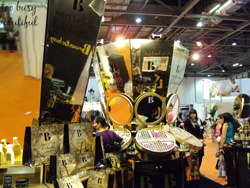 First up is the size, if anyone's been to Birmingham they will know that that Clothes Show is massive, London's Excel in comparison is tiny. But the people here come to shop and they shop hard. It wasn't as busy as you may expect, but there was enough to feel flustered. It's a fun event, where you can shop at discounted prices, enjoy make over's, haircuts, massages and all sorts of other treats. The highlights include a Kit Kat senses bar with painfully hard seats but nice chocolate, an urban beach where Figleaves presented a swimwear show with boyband Vice performing, and the stage areas.
Yes if you thought there were enough hormones in the air, when Vice stepped out (I must admit I wasn't sure who they were) the place went wild. I took a few snaps and opted for the Martini bar, this is where you'll find the grown ups, drinking their feet back to salvation. The stage areas give 'experts' time to tell us common folk what to expect for Spring/Summer… aren't we already in it? Some really are experts such as the teams from Drapers and More, Louise Roe was on hand to offer style advice and Caryn Franklin was also there. Other less suitable experts included George Lamb and Sarah Cawood. There were some interesting tips, sequins are being pushed in a big way by the Drapers lot who also tipped a hot pink Marks & Spencer's dress as the must have item. Glunge was pioneered as the must have look.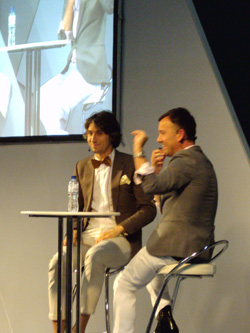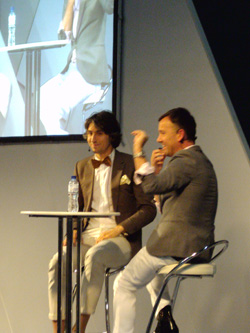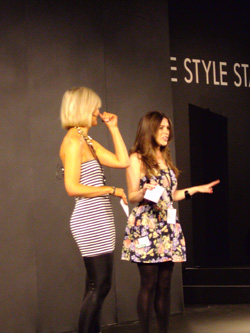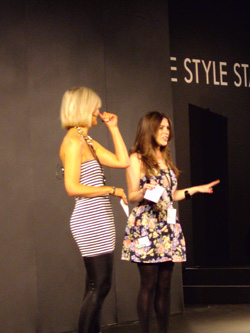 The big attraction is the fashion show. I cannot tell you a single retailer involved in the fashion show as nobody seems to know. It is a performance rather than a catwalk show and is well done, a high brow fashion Butlins if you will. A 45 minute show is performed with dancers and models and a number of styles. This is pure fashion bubblegum, fun, yet a bit sickly. But if you go to the Clothes Show you ought to see it, as it is the day's highlight.
I spent the day looking at the stalls, which don't contain any of your favourite high street hits anymore. But if you love beauty this is a fantastic place to go. You will find cut price Fake Bake, St. Tropez, Benefit, Rimmel, etc. So bizarrely enough the Clothes Show is fabulous for beauty lovers.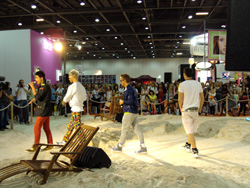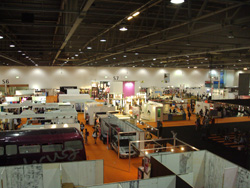 After being mowed down by screaming fans who tried to mob George Lamb, then being deafened by Vice fans I was looking forward to the Style Awards. The Awards were billed as an industry awards show. Girls turned up dressed in all their mini skirt finery to watch this 'insiders' show. It was presented by the ever gorgeous Erin O'Connor, and Harold Tillman came on to present some awards, he was of course met with silence. Lisa Snowdon however caused mayhem, as did Vice.
The Style Awards with Look magazine, the winners:
Photographer of the year: Kayt Jones
Fashion stylist of the year: Grace Woodward
Make up artist of the year: Caroline Barnes
Celebrity hairdresser of the year: Tara Smith
Celebrity best dressed man: George Lamb
Celebrity best dressed woman: Ferne Cotton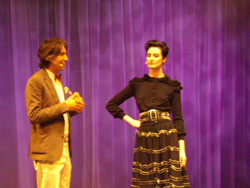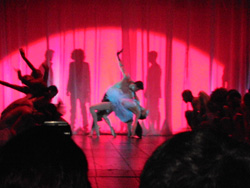 George Lamb received the most screams, and Ferne Cotton was the most entertaining. Another rendition of the fashion show took place, plus one Katie Price aka Jordan. She was there to promote her equestrian line and took to the catwalk in a blatant copy of Juicy Couture hot pink towelling hotpant-jacket combo plus wellies. Surely towelling hotpants would equal friction burns?
And that's how my day ended. This is good, honest fun. If you're young and you want a taster of fashion then why not?! But if you're expecting high brow fashion-week-fashion then step away. It costs £24 plus booking fee for a ticket and the Style Awards ticket is £36, and I debate whether it's worth the fee. There aren't the big demonstrations there used to be, and it's a lot of money. You would probably be better waiting for Birmingham where you get more value for money. And if you're wondering if I bought anything, then my only purchase of the day was a bottle of Fake Bake… well you've got to get into the spirit.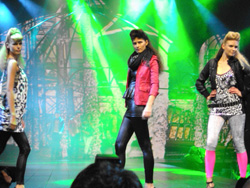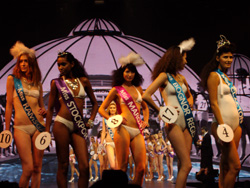 Things I learnt at the Clothes Show:
1. A parka + sequins = Glunge
2. A hot pink towelling outfit with fake tan is not a good look
3. Boyband Vince + George Lamb = hysteria
4. Louise Roe always looks flawless and was working that French Connection kaftan dress
5. I'm to old for the Clothes Show