Last Updated on 5th June 2016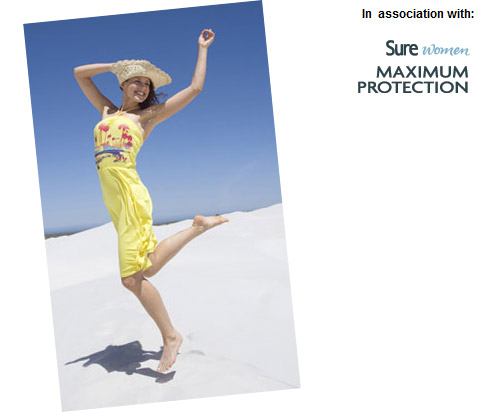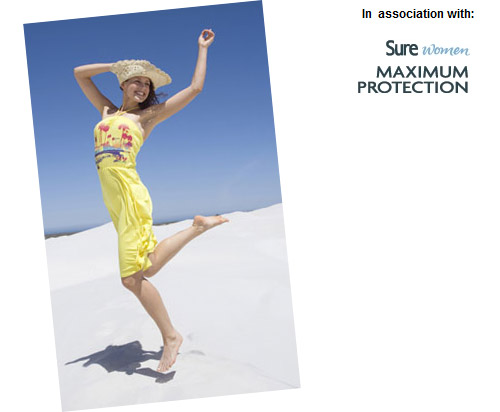 Every year women throughout the UK dread the arrival of summertime.
Whether you fear a hot and humid summer at home, or two weeks in a more extreme and foreign climate, we all get anxious over what to wear to feel comfortable and gorgeous at the same time.
However, we have five top tips you can follow to leave you feeling totally at ease and maximising your wardrobe potential.
Top Tip 1: Stop covering yourself up!
Although not advocating excessive sun exposure, too many women will wear strategically placed items, (such as a black bolero or cheerless cardigan) in order to hide parts of their body they wish could be nipped and tucked – leaving you hot and bothered. Why not draw attention away from what you consider to be your problem zones by opting for beautiful floaty dresses, skirts and kaftans which will not cling to your body and will move with ease without sacrificing your femininity. Wearing the minimum number of items of clothing will ensure you keep your cool and give you the opportunity to feel summery and cheerful.
Top Tip 2: Embrace the summer!
Preferably, ditch the black, it may be a safe and slimming choice but wearing bright and light colours will detract from the parts of the body you wish could be smaller. The added benefit of light colours is that they reflect more light than they absorb so you will remain cool throughout the day. Fake confidence in what you are wearing, no matter how much it is out of your comfort zone, and your body, and in no time people will begin to comment on how stunning you look. The more compliments you receive, the more your confidence will grow; quickly you will begin to truly enjoy the spirit of the summertime.

Top Tip 3: Go au natural!
Wear natural fabrics like cotton, which is soft, breathable and allows body heat to escape. Pure linen is also ideal for summer clothing and in addition is strong, durable, absorbs perspiration and dries quickly. If you fear excess creasing while travelling, opt for a linen-cotton blend which will crease less. The lesser-known but increasingly popular rayon, derived from cotton linters or wood pulp, comes in many forms, all of which are great conductors of heat and is more absorbent than cotton or linen. By choosing the right fabrics for your summer wardrobe you can avoid feeling hot and uncomfortable when the temperatures start to rise.
Top Tip 4: Accessorise!
Accessories are not just for the winter. Scarves and hats can be used to help shade you from the sunshine and keep you cool when the weather starts to swelter. In addition, the right accessory can add an extra element of sophistication and glamour, a dimension which more practical summer outfits can lack. Transform your wardrobe into one Audrey Hepburn and the glitzy women of the French Riviera would be proud of!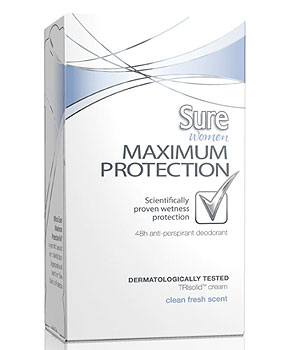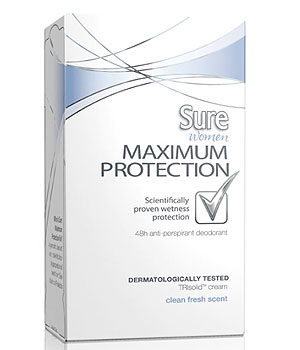 Top Tip 5: Be prepared!
Just as important as what you wear is what is underneath, notably, your choice of deodorant. The thought of unsightly sweat patches will only compound your anxiety further so you need to ensure your deodorant guarantees long-lasting protection. Sure Maximum Protection provides twice the protection of the best-selling anti-perspirant. The secret formula comes in a light, creamy stick which is perfect for popping in your handbag , and lasts 48 hours. Unlike other deodorants, Sure Maximum Protection does not dry your underarms and instead moisturises the skin enabling you to feel confident enough to don those sleeveless tops!
Sure Maximum Protection is available from leading chemists and supermarkets. For a list of stockists please call the Sure Customer Careline. 0800 085 2639. RRP £4.99.