Last Updated on 18th June 2009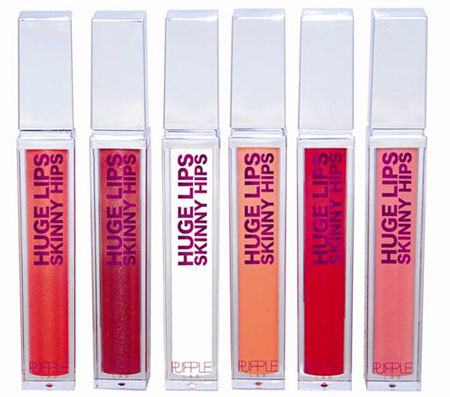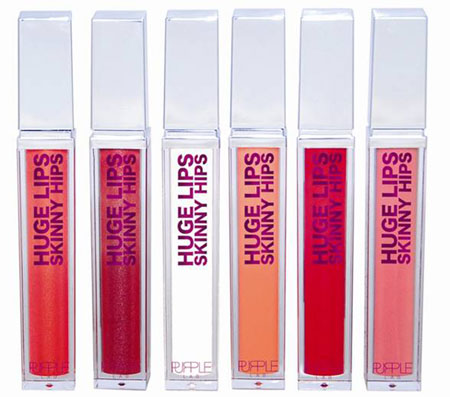 I'm in a bit of a quandary about this product. I can't decide if it is genius or spectacularly sinister.
Huge Lips Skinny Hips by New York cosmetics brand Purple Lab is a lip plumping gloss with added natural appetite suppressant, Hoodia Gordoni.
The company describes it as a "ground breaking lip gloss offering non-invasive access to the lips and hips women have always dreamed about.
The Hoodia, the same substance that can be found in many slimming pills, works by mimicking the effects of glucose on the brain, tricking it into thinking you've just eaten. While Vitamin B3 stimulates blood flow to the lips surface and diminishes wrinkles around the lip edge. There's also lemon peel oil to cool lips and extracts of meadow foam plant moisturize.
The product is the brain child of journalist, writer and marketing consultant Karen Robinovitz and the attempts to market it to the fashion crowd are blatant. There are six shades from Red Sole, named after the bottom of Lauboutin heels to Worship Kate, a pink glittery tribute to Ms Moss. But there's also the rather off-putting No Panty Lines, a clear gloss and Kitty Poledancer.
It all makes sense, yes. It seems like a stroke of marketing genius, true. But there's something unsettlingly lazy about it, don't you think? The press release boasts that "a slimmer figure for those skinny jeans are just a wave of the lip gloss wand away. What happened to willpower and exercise? And what's wrong with food anyway?
No matter how responsible and natural it claims to be, I can't help but think that it sends out so many wrong messages about health, weight and beauty, namely that you can buy the solution to weight problems and that eating less, rather than eating well, is a good thing.
Enough of the moral high ground I hear you say, does it actually work?
I've been testing it out now for about five days now. I've tried it when I've been ravenously hungry, when I've been at work (prime snacking time), on nights out when the temptation for fast food is strong and around the house.
In short, there's no real way to tell. I'm not sure if it's the hot weather, the gloss or the results of two months of trying to be more careful with what I eat, but I did find that I was able to eat less during the course of the test. I applied the gloss when hungry several times, I felt fuller quicker and I believe it did take the edge of the hunger pangs.
As for application coverage was smooth and didn't slick, its bubblegum fragrance was great and instead of that burning feeling you get with most lip plumpers, this felt light, fresh and tingly, so top marks there too.
But I still can't help feeling that there's something very wrong about it. I'm sure it will sell in bucket loads and maybe this is a true glimpse into the cosmetics of the future. But to me it just feels like a product created for a task on the Apprentice, where an idea runs away with the team before it is fully thought through.
Too harsh? Let me know what you think.
Huge Lips, Skinny Hips is available from Space NK for £18.00.