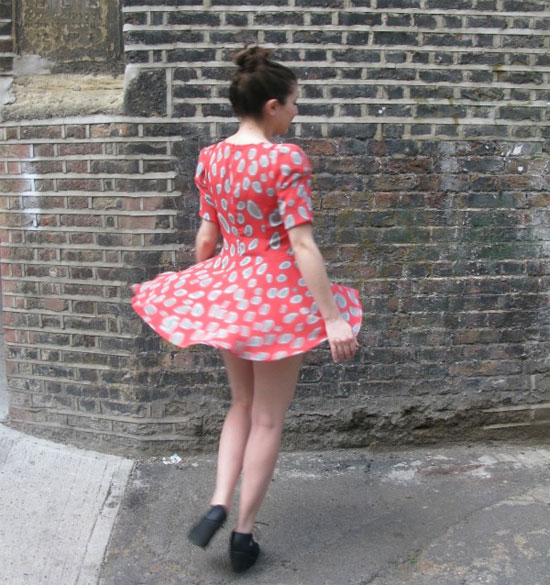 Hipster fashion blogger at Style Lines and freelance journalist, Kat, who is stuck "somewhere between Melbourne and London", has brought us a blog that is truly a daily delight.
The combination of her insider insight, outfit experimentation, profiles of upcoming designers, and youthful adventures in the cities of London and Melbourne gives us every reason to be addicted to her blog.
Here, Kat talks to us about her favourite emerging designers, desire to become a vampire slayer and um, shoe porn! Enjoy!
This morning, you woke up:
And fell straight back to sleep! I'm definitely not a morning person.
How would you describe your style?
Simple but fun.
What other fashion blogs would you recommend?
Style Bubble, Kingdom of Style, Fashion Hayley, Foxy Man.
Fashion tip for the season?
Just be yourself and don't get caught up in trends that don't suit you.
What's your super power?
I'm always right.
Who or what has been your greatest fashion influence?
I don't think I can name one thing in particular. My influences are diverse and seem to change from day to day!
If you owned a shop, what would it be called?
Curious George's.
Who are your favourite emerging designers and what is it that you love about them?
I love Alpha60 for their clean lines and intelligent wit, Emma Rea for her raw, earthy sexuality and Carly Hunter for her architecturealism and expert craftsmanship.
What item of clothing (if any) do you wish that more of us wore?
For women, amazing heels, if only so I can indulge in some innocent shoe porn whenever I leave the house. For men, I wish they would ditch the leggings and try something more masculine!
Favourite quote:
'Yipee ki-yay mother f**ker'.
A phrase you use far too often?
'Totes'.
In moments of weakness you…
Bitch out.
In a nutshell, your philosophy is this:
Work hard, enjoy the sun.
We know you as a fashion blogger but in truer life you'd have been…
A vampire slayer.
Epitaph:
'At least she had good shoes…'
Finally, what's the one question you wish people asked you but you've never had the opportunity to answer? (And what is the answer?)
Who would win in a fight between John McClane and Mad Max? It's a tough one, but I think John would come out on top given his propensity for self mocking witticisms and his hardy durability.