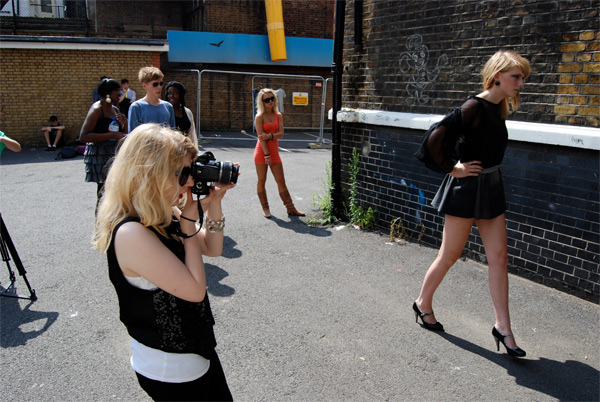 Put together just a few short weeks ago, the BBC Blast project fashionistas have really thrown themselves into their working fashion roles proving the kids are more than alright.
In preparation for a look-book for their show at Fashion Week, the group ran their own professional photo shoot at the Whitechapel centre – a decadent disused Victorian school just off Commercial Road.
The under-18s eased confidence as they worked together to adhere to BBC filming schedule, whilst pushing on with production for an entire clothing line.
Despite sacrificing Saturdays and the occasional evening of their summer holidays, the kids oozed a professionalism which proved just how passionate they are for their fashion dream.
Even the lack of a lift in a ten flight school building didn't spark a conflict in the group.
Speaking to the group's favourite mentor, Julian Roberts, it was clear these students are definitely working hard to produce the goods.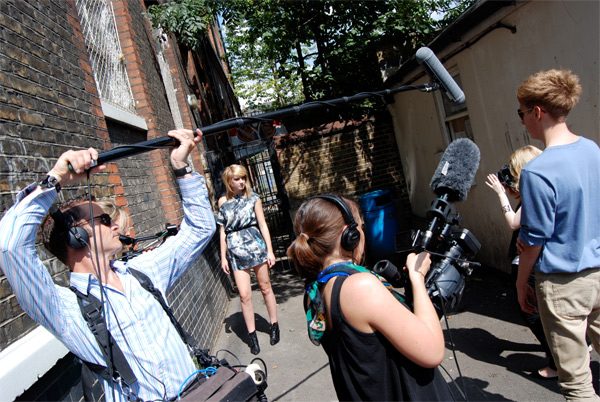 "Perhaps it's because they've not been in the business before they have so much enthusiasm for it. They are approaching it with a fresh motivation. It's very inspiring to work with this kind of talent.
Julian, who works with budding designers at US schools as well as in the UK, has showed at fashion week for the last three years, adding working with Chanel and Cavalli to his CV. Come back to MyFashionLife for a full profile on Julian coming soon!
Grabbing a few seconds to munch on some M&S take-away lunch, the girls (and guys) speak about their passions for designers such as Chanel and Karl Lagerfeld, occasionally swapping the odd giggly anecdote over which pretentious IT girl made a scene this week in the headlines. Completely switched on, it's hard to believe that most of these youngsters haven't yet completed sixth form. Not letting age hold them back from an opportunity like this, they don't seem to be taking it for granted either.
"I couldn't believe it when I got the call to go on this show, said Lydia, appointed sales director for the 1.WO/MAN fashion house. "It's such an opportunity and we all have so much fun.
Fun is what they may be having now, but soon the heat of the catwalk lights will be bearing down upon them and their designs as they reveal at the On/Off showcase on September 17 at Somerset House.
See back here soon for the students' online look-book with their design collection, and interviews with design mentors involved. Don't forget we'll have full coverage of their show at Somerset House!