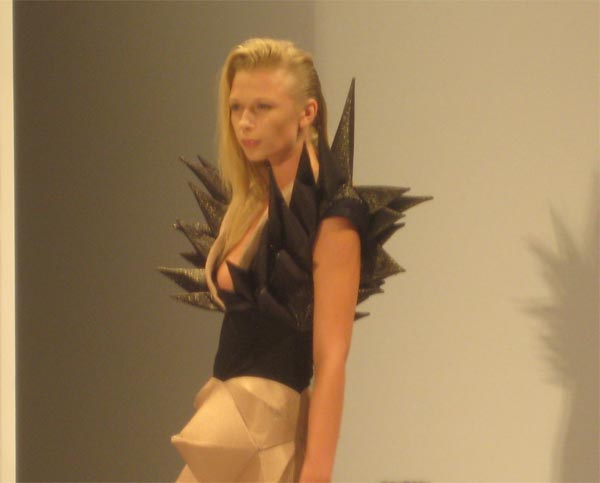 I was lucky to get a seat in this show as it was packed! People were standing on the ledges and overlapping each other on the runway benches.
When the lights came up we were greeted with a beige body con dress with bold shoulder detail. The colours were neutral but had an undertone of shimmer that added to the space age feel.
Strong shoulder jackets followed beige and black dresses and separates in the form of mesh body con miniskirts and sequin centre panels.
Bryce D'anice Aime channelled a mix between 50's Parisian chic and outer space chick. Futuristic body con structures.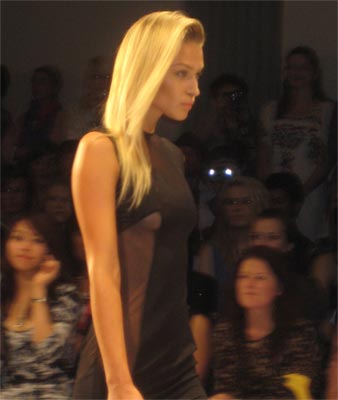 Then came the show stopping piece which even drew a comment of actress, Tamzin Outhwaite who was seating front row. A 3D spike cone like jacket that you can bet your life Lady Gaga will be getting her paws on.
Cameras went crazy for this piece which literally looked other worldly. The dress underneath was cut low in the front and had a 3D diamond structure.
A black dress with mesh panels down both sides revealed just enough flesh and gave a spin on the little black dress adding even more sex appeal…if that's even possible.
Chiffon playful dresses in multicolour polka dots teamed with a spiky jacket added attitude. The collection to me was broken up into three stages but all had continuity. The first was neutral shades, outer space and yet stylish. The second part was more chic playful sexy dresses. The final section was black and red and mesh chiffon material was combined to make some gorgeous and delicate blouses and dresses.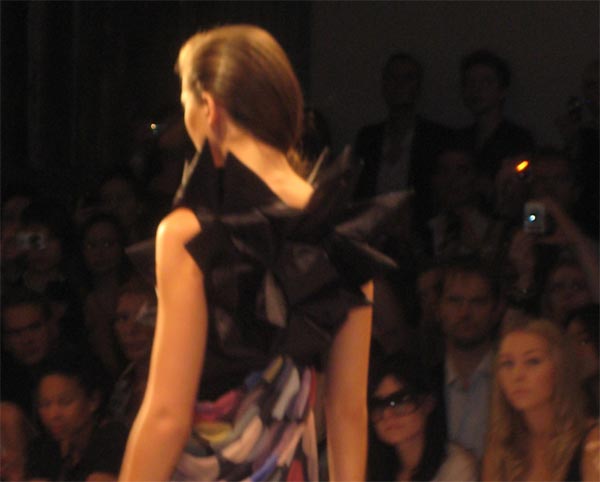 Each piece was interesting in the fact they all had an unapologetic chic and edgy mix. The collection was full of separates as well as dresses. Dramatic dresses, bold blazers and killer heels worked hand in hand to produce a collection that will bring the wearer out of their comfort zone. Byrce's inspiration has come out of the arts, architecture and philosophy and shows he is not only understanding the woman form but also not playing with its structure.
A quick chat with Bryce D'anice Aime!
How would you describe your collection?
Modern, edgy, strong, very confident all about the woman silhouette.
What is your favourite piece from the collection?
The jacket with fan semi circles up and down the arms it reminds me of a sexy space cadet.
Who would you dress past or present and why?
I would dress Lady Gaga as she reminds everyone not to take things to seriously and express yourself through your fashion and she is crazy. Also I always say Scarlett Johansson as she is beautiful and chic I hope she likes this collection.