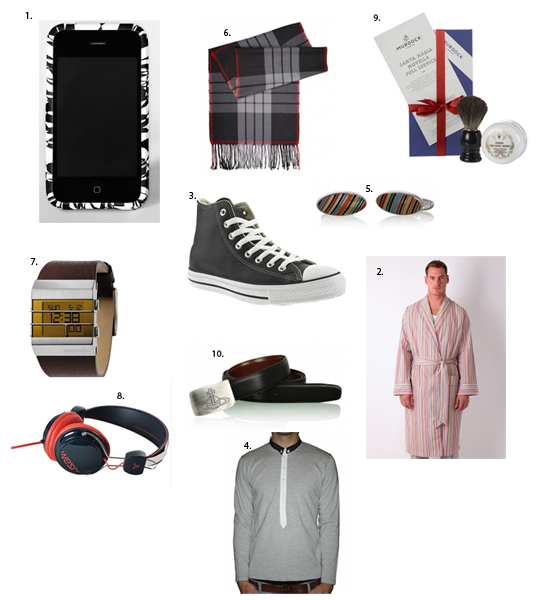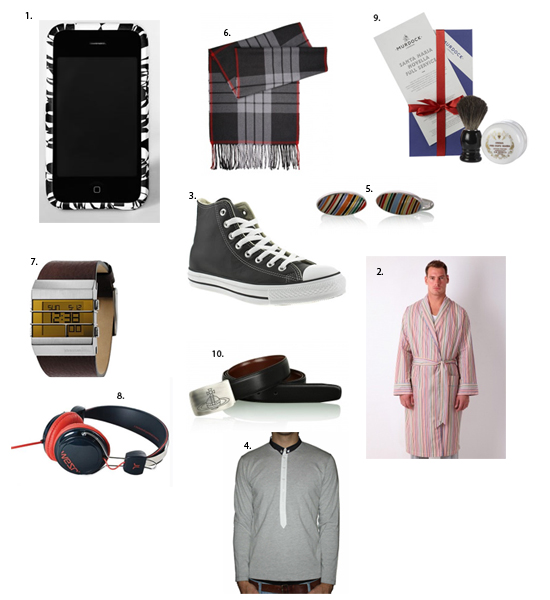 Yes, it's that time of the year again.
It's officially December, which means the decorations are up, the radio is blaring Mariah Carey and your Christmas shopping is just waiting to be done.
We know that battling those Saturday shopping crowds can be an arduous task, so in an attempt to make life that little bit easier in the run up to the big day, we've devised a list of great Christmas gift ideas for your loved ones.
Here are our top 10 gifts under £100 for him! Happy shopping!
1. AnOther iPhone case by Gareth Pugh, £52.50 available at Liberty.co.uk
2. Paul Smith Multi Stripe Cotton Robe, £84 available at my-wardrobe.com
3. Converse All Star leather Hi trainers, £54.99 available at Schuh
4. Rough Justice long sleeve top, £56 available at Net Clothing
5. Paul Smith Multi Coloured Stripe Sterling Silver Oval Cufflinks, £95 available at my-wardrobe
6. McQ Alexander McQueen, Grey Wool Tartan Fringed Scarf, £80 available at my-wardrobe
7. Diesel Retro Digital Watch, £96. 89 available at House of Fraser
8. WeSC Bongo Blue Iris Headphones, £59.99 available at Store Twenty Four
9. Santa Maria Novella Full Service Gift Voucher, Murdoch Grooming, £80 available at Liberty.co.uk
10. Vivienne Westwood Brushed Silver Orb Logo Belt, £90 available at my-wardrobe