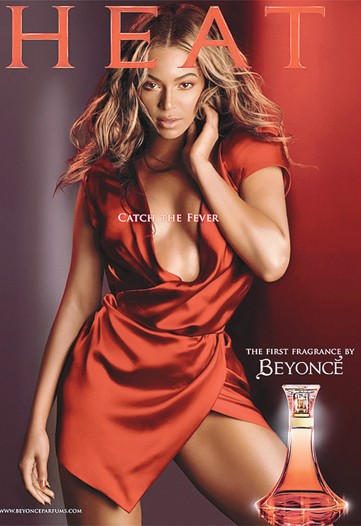 Since reporting news a while back that Beyonce was joining the fragrance frenzy, we've been waiting to hear more details. Well, now that we've got them, there's only one word to describe her first scent , hot.
It seems the fiery fragrance, which is due for release soon by the singer and all-round superstar, is already a hit with some of her fans.
"I'm so happy with it. I've been working on it for a while now, Beyonce said of her secret smell. "The fans loved it. They were like, 'I love that, I'm getting that, why isn't it out right now? I need it!
But how did she decide on that all-important name for the perfume?
"A lot of my performances have had fire involved, so we thought 'Heat'. Also, red is one of my favourite colours, as is gold, said Beyonce, hinting at the red and gold hues outlining the bottle. "So then we thought of making the bottle look like it's on fire. I love antique bottles — my mother had a collection of them when I was growing up. I wanted something with an antique yet modern feeling. Even with my wardrobe, I always try to find things that have a little bit of something vintage, yet still timeless and classic. The bottle, I felt, was a great mixture of the two.
'Heat', which is licensed under perfumery expert Coty, has top notes of red vanilla orchid, magnolia, neroli and peachblush, subtle hints of honeysuckle nectar, almond macaroon and crème de mask, and a splash of giant sequoia milkwood, tonka bean and amber, reveals WWD. Phew, that's, er, rather a lot of smells.
"This was my first fragrance, and I wanted to make sure that it was something I would love forever, Ms. Knowles added.
Prices for the perfume start at $39 through to $59, and fans of the fragrance can also get their hands on a Gold Sparkling Body Lotion for $24.
[Images]