Last Updated on 19th October 2013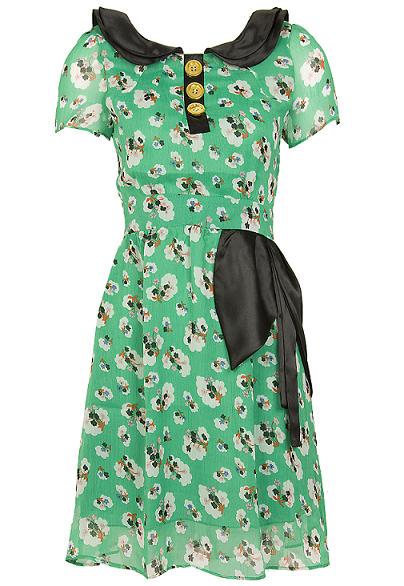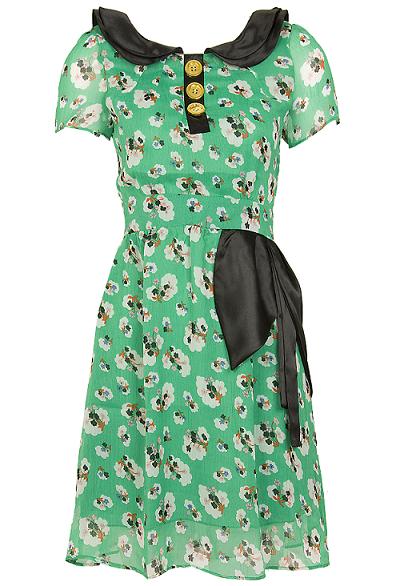 We like to think of ourselves as somewhat style-savvy here at My Fashion Life, so when our friends at TK Maxx asked us to take part in a styling challenge, rise we did. So here's the deal: TK Maxx give us one dress from their spring collection which we then style in three different ways for three very different scenarios. Easy, non? Well, we'll let you be the judge of that.
The dress in question is this cute floral tea dress, £16.99 (pictured) – admittedly not the easiest dress to style, with its fussy neckline and hip sash detail, but it's pretty nonetheless (though truth be told, we prefer some of the dresses dealt out to the other bloggers involved). And actually, that's what makes this challenge a little tricky, because you guys have to vote for your favourite look.
But anyway, that's quite enough of an introduction for one day, so let's get to the nitty gritty: behold below our final looks.
Look one – meeting the boyfriend's parents: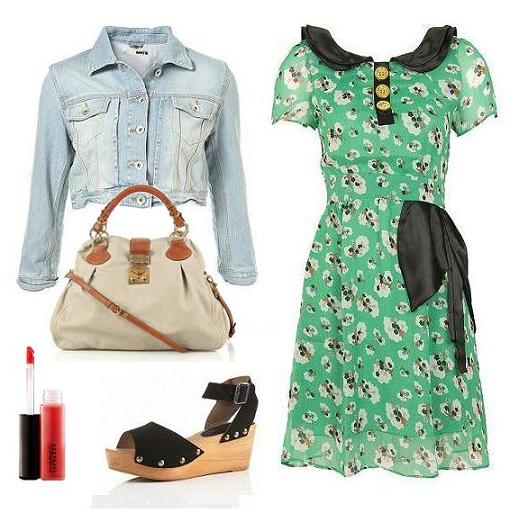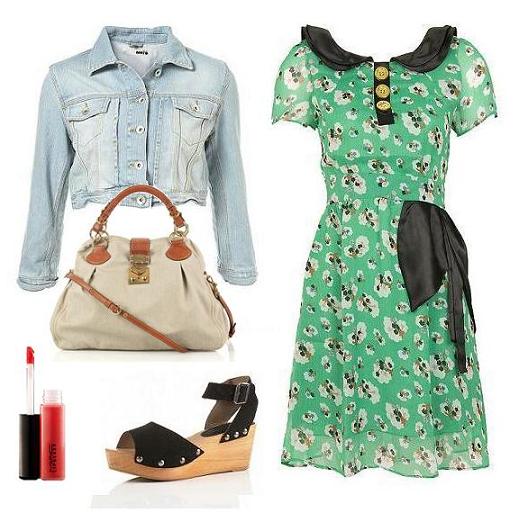 Accessories: cropped denim jacket – Topshop, £40; Miu Miu nude canvas tote – Net-a-Porter, £750; black wedge clogs – Topshop, £50; Mac Tinted Lipgloss in Ember Glow – Mac, £12.
On a day which injects fear into the toughest girls' hearts, being comfortable is key to surviving 'til tea-time; scrap those five-inch heels, save on sparkles and sequins, and scrape off the excess makeup – we're going for grown-up cute, here. Keep things simple and up-to-date with a cropped denim jacket and a nude canvas bag: both say relaxed without being scruffy. To inject a real style statement, opt for these black suede clog wedges – not only are they bang on trend, they're practical, too, and add a little edge to offset the sweetness. A slick of tinted gloss in coral and we reckon you're good to melt the hearts of the in-laws.
Look two – job interview: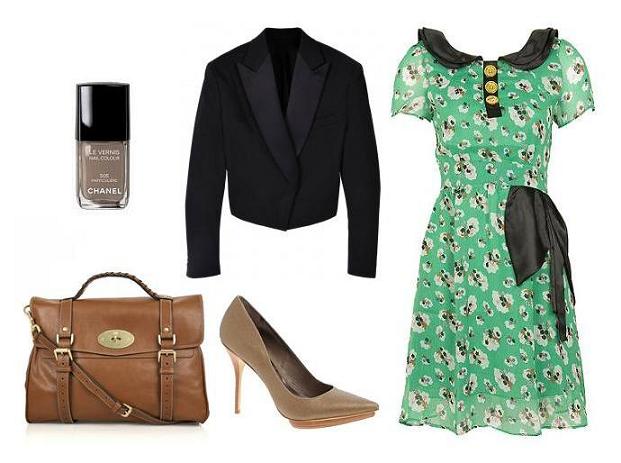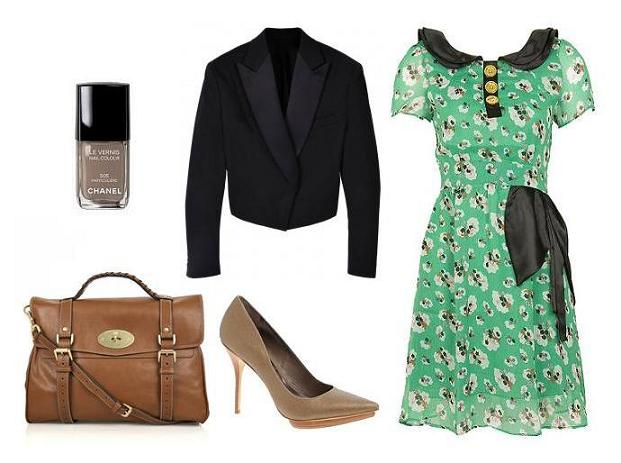 Accessories: Acne tuxedo jacket – My-Wardrobe, £333; Oversized Mulberry Alexa bag – Net-a-Porter, £795; Dune shimmer heels – ASOS, £85; Chanel Le Vernis in Particuliere – Debenhams, £16.35.
It's such a tricky look to get right; you want to be smart, but you don't want to sacrifice your sartorial style. So how to keep your cool when your palms are so sweaty? The key is to stick to classic pieces that will work in a variety of ways. A sleek cropped tuxedo jacket is a sure-fire way to say you mean business, and in this case, the silk lapels and narrow neck-line compliment the dress a delight. Simple stilettos keeps things smart, and in nude offer a great new-season twist – as does the oversized Mulberry Alexa, which updates the classic leather tote. Add a quick wash of Particuliere (this season's most sought-after shade) to tie it all in.
Look three – a night out with the girls: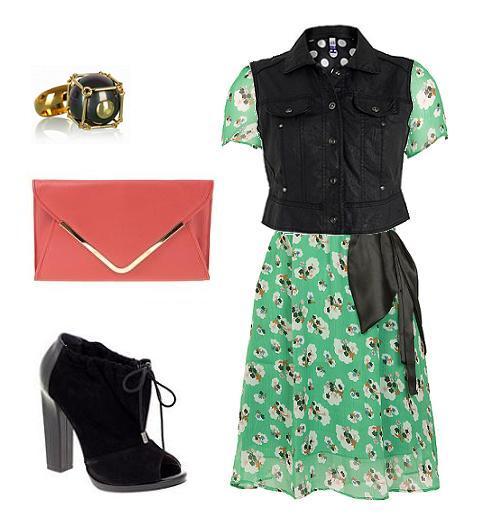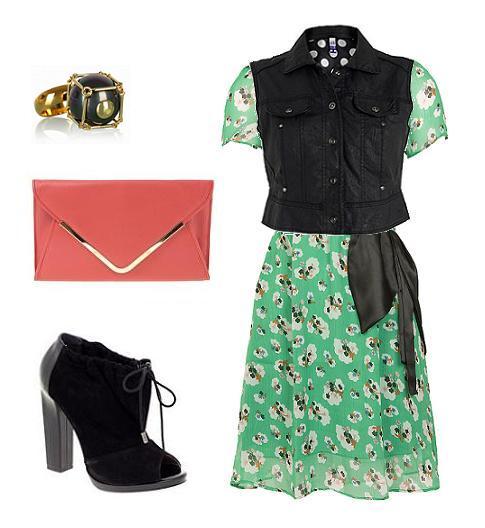 Accessories: H! by Henry Holland sleeveless biker – Debenhams, £35; Jaeger Catwalk shoe boot – ASOS, £199; oversized coral clutch – ASOS, £15; Lucy Hutchings black pearl cube ring – My-Wardrobe, £81.
Frankly, a knee-length(ish) floral tea dress isn't our idea of glad rags, but we're keen to prove this piece can work for a night out on the tiles, too. First thing's first, we need to roughen this look up, but a biker jacket's a bit much for a night out – sweat and leather is a recipe for fashion disaster. A sleeveless biker, however, does the same tough trick and keeps things cool – literally. Add further edge with a pair of killer shoeboots – the suede/leather contrasts is not only key this season, but it also adds great texture. Finish off with some statement accessories by way of a stand-out ring and an oversized coral clutch, which draws on the peach tones in the dress and injects a flash of colour.
And now it's over to you to vote for your favourite. As of today, TK Maxx are uploading each look from the five bloggers involved on their Facebook page, and want you guys to vote for your favourite look as per the scenario. Before you do, though, just you remember who brings you your insider information every day, hmm? We kid, we kid.
Let us know what you think of our styling efforts, too – we can take it.