Last Updated on 20th September 2010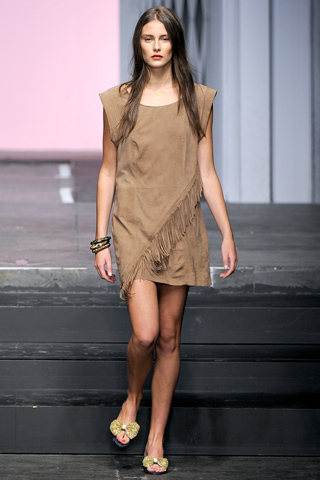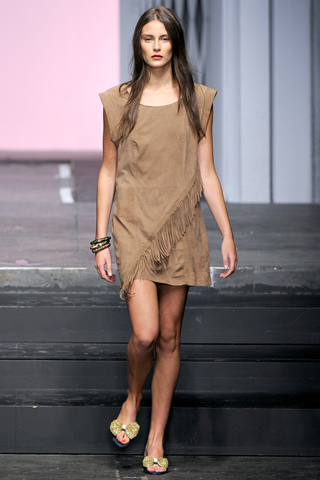 Sienna and Savannah Miller took their label Twenty8Twelve back to its roots for Spring/Summer 2011. That would be 2007 then ladies..right?
Apparently not. According to the show press release, Twenty8Twelve is actually rooted in 1950's Americana and it's romantic spirit of travel- as captured in the Jack Kerouac novel 'On The Road.'
There was indeed something quite fanciful about the girls seen on the London catwalk. Denim skater shirts and ruffled high neck blouses formed a Western basis for our travelling bohemian (incidentally, all the models were Sienna identikits) where cotton and crochet underlays swirled below.
Prints were supposed to be eclectic, with maxi dresses having an Aztec vibe, and scattered through the collection as if sourced from global trips ad hoc.
The eclectic mix of looks worked- but perhaps not as the clear concept Miller and Miller intended. McCartney-esque loose knit shifts and high waisted culottes were more urban basics than ethnic warrior, but the collection appeared all the better for it. A lime lace shift dress was gorgeous to see (if a little unexpected), and some of the scalloped micro shorts and waistcoat dresses were well constructed.
Sienna and sis are definitely experimenting with more techniques these days- as fringing, ruffles and asymmetry all perked up simple body con dresses and button through shirts. Colours were wholly muted, with khaki, denim blues and dusty creams mixed in with white and the odd burst of lemon.
Twenty8Twelve scored London footwear label Gina as an official Spring/Summer partner, and the glitter bow heels and sandals were exactly the fun flippant pairing the girls wanted.
As we sat watching a media scrum erupt over Pixie Geldof on the front row (she got even more attention than Jude!), and thinking about the cupcakes we spied by the door, we had no idea what to expect from this latest Miller fashion outing. And as it turns out, a certain level of unpredictability is exactly what we got- whether it was intentional or not.

[Image]