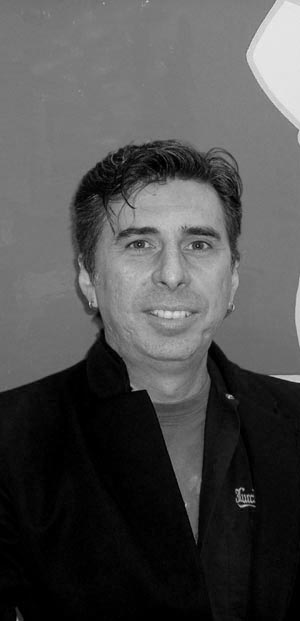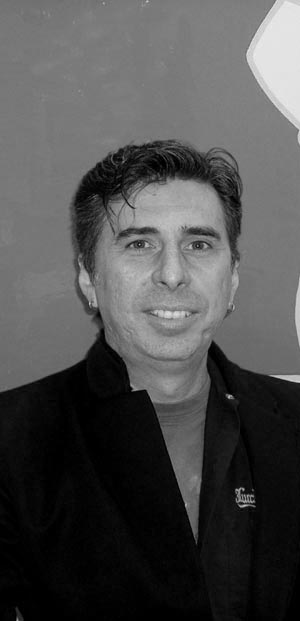 Johnny Rocket's a name that should need no introduction, but what the heck, we're going to give you one anyway. When John Pearce launched his jewellery label back in 1997, he had no idea it was going to become one of Britain's most iconic accessories brands – but he'd hoped it would be.
Quickly catching the eyes of all the people that matter in music and celebrity cultures, it was the fashion industry that first saw Johnny Rocket's potential for super-stardom when he sealed deals to collaborate with Tom Ford and Julien Macdonald, among others, to create his signature innovative designs that fuse edgy rock-spirit with intricate expertise.
Making somewhat of a name for itself as a coveted cool and quirky company, creative commissions have flown through the door for Johnny Rocket – he created Jamiroqui's iconic warrior headdress, Kylie's legendary hotpants and a bespoke Swarovski-encrusted guitar for the Darkness frontman Justin Hawkins among the rest.
But Johnny Rocket's no longer a one-man brand – in 2002, when Pearce was working on a diamond-embellished Ford KA with Julien Macdonald, he met Niall Paisley, an esteemed jeweller, who soon became a partner.
Fast-forward to today, though, and Johnny Rocket's been working its magic on a new project – with diet Coke, as it would happen, creating limited edition Swarovski-embellished bottles exclusively for Selfridges, where John will also be appearing today to help customers customise their own versions.
We caught up with Johnny Rocket last week to find out more about the diet Coke collaboration, what makes jewellery so special, and what sparkle we should be looking out for this season…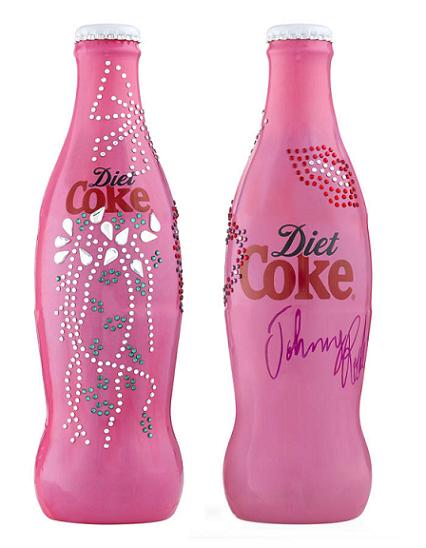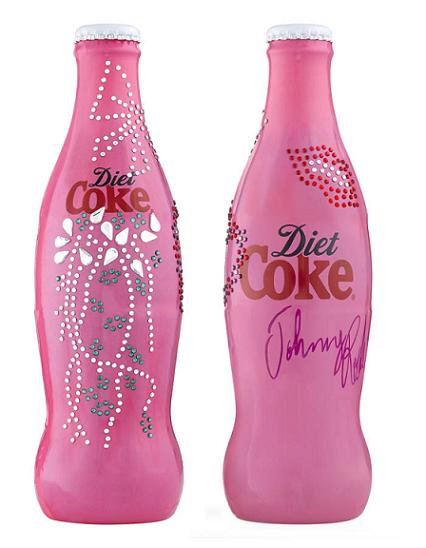 You've just announced a collaboration with diet Coke to create a limited edition collection of bottles – how did the collaboration come about?
diet Coke approached me about working with them to give the iconic diet Coke bottles a touch of crystal magic with my sexy and stylish designs. I love diet Coke and said yes!
Tell us a bit about the collection – what were your inspirations for the designs?
Well, we wanted to draw on new processes we have been creating with Swarovski using graphics rendered in crystal components. The process has enabled us to create complex images such as photographs and tattoo designs. It's detailed, but an incredibly expensive process. The collaboration with diet Coke is about creating a piece of fashion history that everyone can afford to own.
Do you have a favourite?
All of them! I love the run of stars in the red black and silver and the cascade of emerald and teardrop crystals. As well as the multicoloured heart – normally I can't stand heart designs but this really works.
You'll also be on hand at the Diet Coke Crystal Customisation Boudoir in Selfridges this week to help customers create their own bottles – you're renowned for your individual style, so what do you hope you'll be able to help shoppers achieve?
I hope to be inspired by the people who come to the boudoir and give them something unique to own – it could be a disaster or a bit of brilliance! Most likely it'll be the latter.
We'd like to go back in time a bit to where it all began for you in 1997 – how did you become involved in jewellery design?
I've always loved making things and as a child was obsessed with Airfix. At High School in Oz I had a Saturday job in a jewellery store, where I was lucky enough to be offered a six year apprenticeship making jewellery and I've been doing it ever since.
When I moved to London, only Shaun Leane and I were really taking catwalk seriously. Shaun worked with Lee (Alexander) McQueen and I started with Owen Gaster. It was an incredibly exciting time. However, the first pieces I created for show disappeared on the catwalk. I learnt then that you have to fight for space in a show, and what really counted was getting press coverage for the designer.
Was it something you'd always wanted to do? What sparked your interest in jewellery?
It probably started with the Airfix kits. I initially wanted to design aircraft[s], but [there were] not that many courses for that in Oz. I've always been good at making stuff, pulling apart radios, cars and bikes – and then secretly putting them all back together again. However, when I first saw the 'Dragonfly' pin by Rene Lalique – that's when I knew what I wanted to do. He's the greatest jeweller ever. My friend Felicity brought me back a catalogue of the exhibition curated by Vivienne Becker at the V&A, I can't make like him but I get him and his spirit, that's enough.
What is it about jewellery that appeals to you so much?
It's a difficult media to work in – there's such a vast palette of materials and you need good hand-eye-brain co-ordination, but the end results are so worthwhile. It's design created for all the right reasons and usually to mark an occasion – there's a lot of love that goes into a piece of jewellery.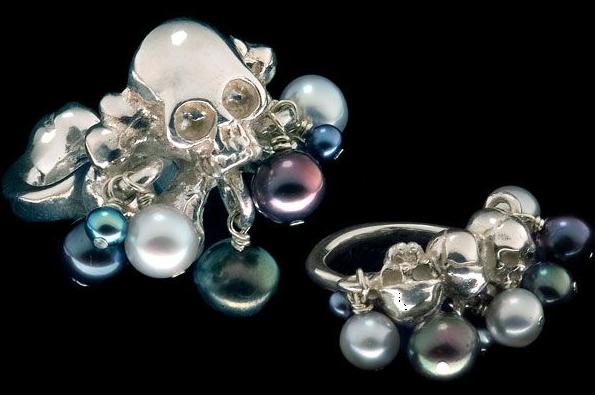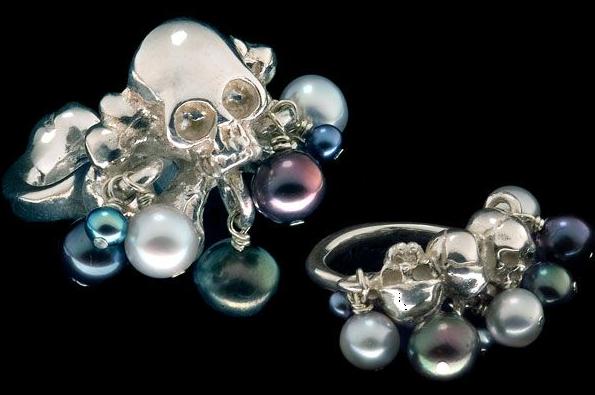 You've worked with some incredible people over the years, including Tom Ford and Julien MacDonald. What do you think it is about Johnny Rocket that catches the attention of such high profile names? 
It's hard to say. For every client, regardless of who they are, it's a collaborative process. I work closely with all my clients to produce something that is unique, beautiful to look at but also technically brilliant.
Who's been your favourite person that you've worked with so far?
That's an unquantifiable question. I mean, who do you love more – your wife, child or dog? It's impossible to pick. Justin Hawkins is a gem – funny and so kind. Kylie and her entire team and family and delight to work with – they're all so well mannered.
You also take on creative commissions and are responsible for Kylie's embellished hotpants, Jamiroquai's warrior headdress and the Darkness's Swarovski-encrusted guitar. What's it like for you having designed pieces that have now become so iconic?
It doesn't register at the time because you are intensely caught up in the creation process. It's when something you've created continues to reappear in the media that you realise something else has been invested into the object and it has found a place in popular culture. I am not sure of the longevity of that, but it is nice when your daughter brings it to your attention when it flies past on TV.
Do you have an all-time favourite stand-out piece?
I really hated the Kyborg at the time because it was made when my wife was pregnant with Ruby and at the time I always seemed to be in Elstree studios or up the M1 for 16 hours a day. I dig it now as it was so outside the box for us, and I really can't thank William Baker enough for his misplaced faith in me. If it was something that had all the joy of making a piece – it's the Fender Guitar. Niall and I really worked well together on that, and we got a lot of nice travelling and fun out of it.
You cross-over into the fashion world a lot with your work – are there any trends and/or designers inspiring you at the moment?
In jewellery, Alexander Davis, Tomasz Donocik and William Cheshire are tripping my trigger. I'm still befuddled with men's fashion at this moment. I rely on vintage for clothes, and find it increasingly frustrating to find menswear that is edgy yet finely crafted. I often find myself digging out old Ralf Simmons and Heidi Slimane stuff or ferreting around in Greenwich or Alfies for stuff.
Do you have any tips as to what jewellery to wear this season? What should we be looking out for?
Rose gold and black rhodium are really making a statement across the board, male and female. I really dig the contrast of Tomasz Donocik rose gold metal components with the raw edged brown leathers. I also am really looking forward to getting my friend, Arman Suciyan's, new collection in. He is a lazy genius, behind a lot of Stephen Webster's carved designs – I have been pestering him for three years and finally he has two amazing collections coming – revolutionary stuff. He is just so pedantic, I envy his skill.
Finally, what's next for you? Do you have more exciting collaborations or commissions in the pipeline?

Yep just finishing off a project with Stephen Jones which involves alcohol and hats. I'm also making a guitar for myself, and saving my pennies so I can pimp up an old classic car – so a couple of me jobs for a change.
Johnny Rocket's diet Coke crystal collection is available at Selfridges' pop-up Customisation Boudoir, which opens today for two weeks – and if you pop along this afternoon, Johnny Rocket will be on hand to help you customise your own bottle for £5.50.
[Images]