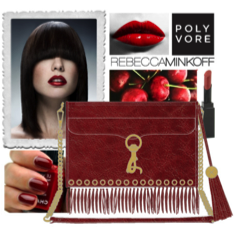 If you like to stay on top of the latest fashion craze, consider crowd-sourced the new buzz-word. First Derek Lam launched the first crowd-sourced collection on eBay, and now, Rebecca Minkoff and Polyvore are calling on the public, too – the pair have just launched the first ever crowd-sourced runway design competition.
The American accessories designer has teamed up with the online fashion community to give users the chance to redesign the next Rebecca Minkoff Morning After clutch that won't only go into production, but will make its grand unveiling at Minkoff's debut runway show at New York Fashion Week in February, too.
"I'm always trying to embrace new methods of technology," says Rebecca. "We're always exploring non-traditional media strategies to maximize our presence and collaborating alongside Polyvore was a no brainer. I'm very much looking forward to seeing how each user creates their own Rebecca Minkoff bag, and I'm excited to see which bag is going to wind up in the Fall collection."
Having provided Polyvore users with the signature elements of creating a coveted clutch – digital images of leather, hooks, tassels, studs, zips, straps and the like – Minkoff's giving fashion fans between now and November 29th to design their dream designer bag.
And if ever there was a time to impress, this is it Rebecca will be personally selecting her top 10 designs and will then put the fate of the finalists in the hands of her Facebook fans. The successful design will be named after the winner (take that Birkin and Alexa) and will be available to buy next spring as part of the AW10 collection.
Visit polyvore.com/rebeccaminkoff to enter. No excuse us, we're off to get creative…