Last Updated on 11th February 2011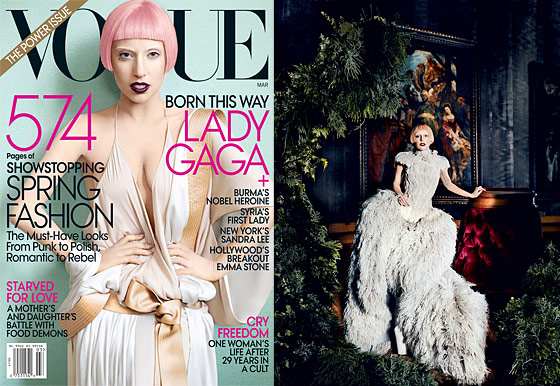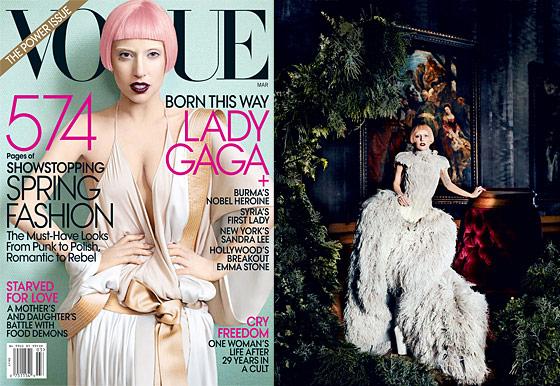 US Vogue has now officially revealed it's exclusive March cover story on Lady Gaga, wearing plenty of Alexander McQueen and Haider Ackerman, a pink cropped bob, bleached eyebrows and dark shaded lippy.
And the inside interview is just as avant garde as the styling, but then again, we have come to expect such things from Gaga (aka, The Lady Born With Demon Horns). Talking candidly to Vogue's Jonathan Van Meter, Lady G reveals why she finds it so funny being on the cover of such a coveted global glossy.
"Because, as funny as it is that I am on the cover of Vogue – and no one is laughing harder than I am – I was the girl in school who was most likely to walk down the hallway and get called a slut or a bitch or ugly or big nose or nerd or dyke," says Gaga. "'Why are you in the chorus?'"
And, as today marks the anniversary of Alexander McQueen's death, Gaga shares her love of the designer, of British fashion, and even being compared to the late Isabella Blow.
"The fashion community in general got me much earlier than everyone else," she says. "But actually, I felt truly embraced by this London cultural movement, that McQueen, Isabella, Daphne Guinness wing of the English crowd. I remember when I first started doing photo shoots, people would say, 'My God, you look so much like Isabella Blow, it scares me.' And McQueen used to say, 'Oh, my God, your boobs!' He actually grabbed both of them and said, 'Even your boobs are like hers!'"
She then goes on to talk about food poisoning – all in a day's work, eh? Read the full and frankly honest article in Vogue's March issue, out February 22nd.
Image credit: Vogue US