Last Updated on 19th October 2013
Kate Middleton may have married her prince, but summer wedding season is still in full swing – and hey, there's two more Kate's still to marry yet.
Maybe it's the warm weather that's got us feeling a little frisky or the thrill of a great pair of panties, but we can't stop ourselves stumbling across luxe lingerie, and since we've sorted the rest of the sartorial wedding dilemmas, we're more than happy to stop and stare.
Naturally, our desire to know what Kate wore under her dress is likely to remain unfulfilled, so we'll settle instead for picking the perfect sets for you to show off in the wedding suite.
We've browsed the best boutiques for beautiful bridal lingerie you'll both say yes to, and from curve-enhancing corsets to light luxe lace layers, we've come up trumps with pieces to make you feel like a princess.
But we'll warn you, it might put you in the mood for more…
Rigby & Peller Vintage Bridal Set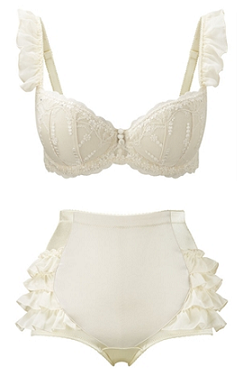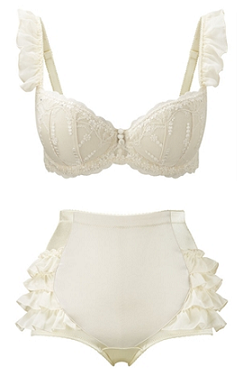 Rigby & Peller's vintage chiffon ruffle set is beyond gorgeous. With its chiffon bow tie and ruffled back briefs, we love its delicate, decadent touches.
Bra, £95.95; brief, £89.95, both available at Rigby & Peller. BUY NOW!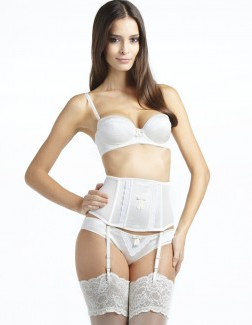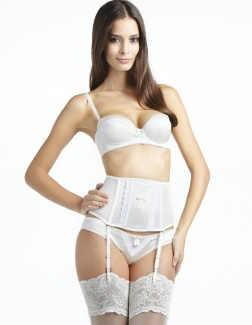 We might have know Myla's first full bridal set would be seriously sumptuous. In ivory silk satin finished with a delicate floral lace trim, 'Meredith' strikes the perfect balance of sweet and sexy – and the waspie will add subtle structure.
Bra, £110; brief, £39; suspender, £39; waspie, £60, all available at Myla. BUY NOW!
Simone Perele Avant Premiere Basque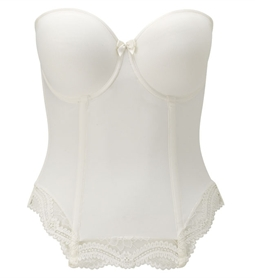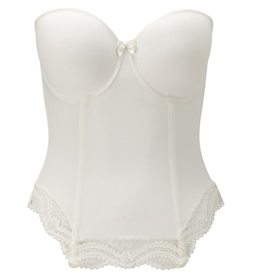 If clean cut simplicity is more your thing, Simone Perele's premiere bridal basque is strikingly beautiful. Understated and elegant, its quality design with a little lace trim is enough to make a statement.
Simone Perele Avant Premiere Basque, £101, available at Selfridges. BUY NOW!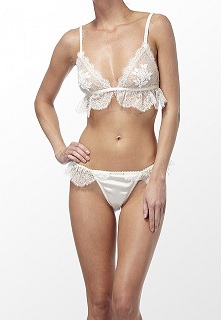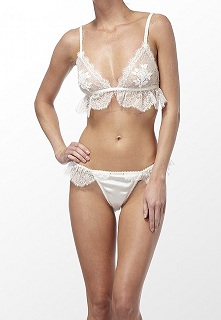 Decidedly feminine, Jenny Packham's lace soft cup bra with a ruffle trim and subtle bead detail is delicately sumptuous. We love the diamante detailing and lace frill on the matching silk briefs, too.
Bra, £249; brief, £101.75, both available at Harrods. BUY NOW!
a href="http://click.linksynergy.com/fs-bin/click?id=wMxbNKTtnf0&subid=&offerid=219891.1&type=10&tmpid=7769&RD_PARM1=http%3A%2F%2Fwww.harrods.com%2Fproduct%2Faubade%2Fabrazo-tango-chemise%2F000000000002317948%3Fcat1%3Dwomen%2526cat2%3Dwomens-lingerie-and-nightwear%2526cat3%3Dlingerie-camisoles">Aubade Abrazo Tango Chemise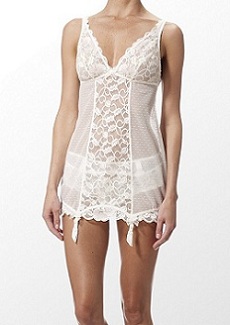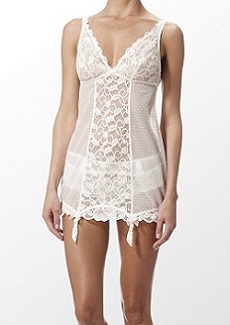 Want to cover up without being sucked in? A chemise can be just as romantic – and sexy – as a revealing set, and it'll skim over your curves with confidence. Aubade's Abrazo chemise is sweet with its sheer lace panel, but it's seriously sensual, too.
Aubade Abrazo Tango Chemise, £139, available at Harrods. BUY NOW!
Click here to see our wedding dress guide and what to wear to a summer wedding.