Last Updated on 5th August 2011
Whilst probing for fashion news, catastrophes and gags, I came to witness something that hit me like a fashion stun gun. What I saw was probably equally as shocking: Stylist and fashion editor, Katie Shillingford's choice of, erm, Goth inspired bridal finery. If you wanted to distort somebody's ideal of the traditionally perfect wedding dress, this was definitely the way to go.
A Gareth Pugh creation, the high-necked, floor-length gown with a layered skirt made of shredded ash-grey silk chiffon was an odd proposition for a marriage setting. Kate's wide-brimmed, scarlet smile reminded us it was her wedding day, but the morose ash-grey hue made the gown look unhappy, and forced us to think otherwise. Matters weren't helped with the addition of candy pink hair (yes, really!) or the awkwardly tilted stance she was photographed in.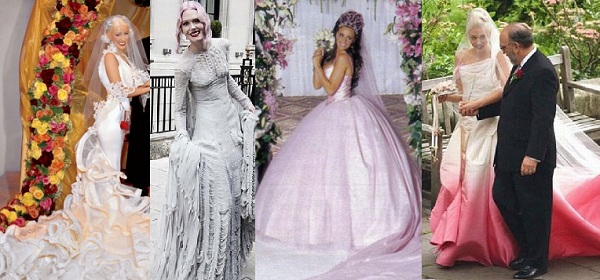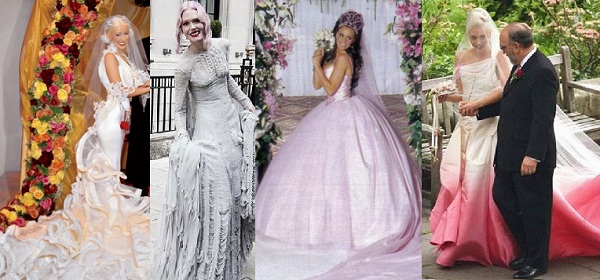 OK, so fashion's boundary breaking nature has a newfound friend in the humble wedding dress, but Shillingford's dress is an exception – not a monstrosity. The unexpected colour and non-conformist aesthetic makes it an oddity, but not totally unadoptable – it would probably turn heads on the catwalk. Talking of wedding dress oddities, a fair few have sprung in the past and this post wouldn't be complete without a nod to the downfalls of these offenders against the constitution of suitable marriage gear.
Katie Price outshone the most grandiose of big fat gypsy weddings when she chose a hideous £20,000 Cinderella-esque wedding gown for an inappropriately Disney themed wedding. It was all going to end in tears. And it did.
Regular style maven, Gwen Stefani, got it oh so wrong on her big day, opting for a John Galliano gown that looked like she'd tiptoed through a strawberry field on the way to her wedding ceremony with Gavin Rossdale in 2002.
Christina Aguilera made the grave mistake of competing with her wedding cake when she married Jordan Bratman in 2005. Something of cross between cheap cake icing and a mini tsunami, the Christian Lacroix creation did nothing but swallow up the pint-sized singer.
As I find myself caught between the extremities of avant-garde and traditional wedding wear, thanks to Katie Shillingford and Kate Middleton, and slowly losing the will to get married if my wedding dress looks anything short of absolutely perfect, I sense a revolution surfacing. The rebel bride takes charge, dethroning the uninteresting, white satin and lace shod one.