Last Updated on 19th October 2011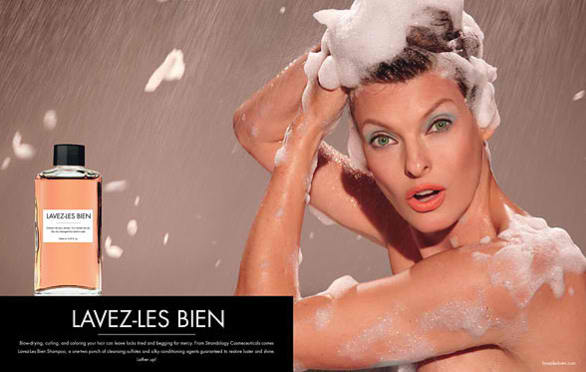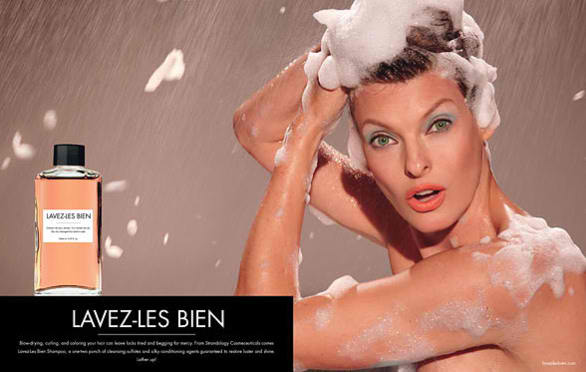 Legendary photographer Steven Meisel has teamed up with W magazine to poke fun at the advertising industry, by creating a series of fake ads to go in the latest issue.
The fakes will be scattered throughout the November issue of W magazine amongst the genuine ones. Edward Enniful styled all of the fake adverts, which include non-existent lingerie brands, hair and beauty products and fragrances, among others.
Karen Elson, Anna Dello Russo, Linda Evangelista, Petra Ecclestone and even Joan Rivers were among those who got on board to help Steven Meisel with his project.
Some of the faux ads are more convincing than others; we almost believed that Petra Ecclestone was getting into the perfume industry by launching her first ever scent, just as we could easily believe Joan Rivers draping herself in fur for Bruce Hockshmidt.
Karen Elson appears to be smacking the bottoms of male models for fake lingerie company, Tantrum, while Linda Evangelista uncharacteristically promotes a shampoo; even little six-year-old Toddlers and Tiaras cutie Eden Wood got in on the action, as did Anna Dello Russo and a host of other editors to promote a face cream with the tagline "because you've earned it"… genius!
Would you like to see any of these products/adverts for real?
[nggallery id=102]