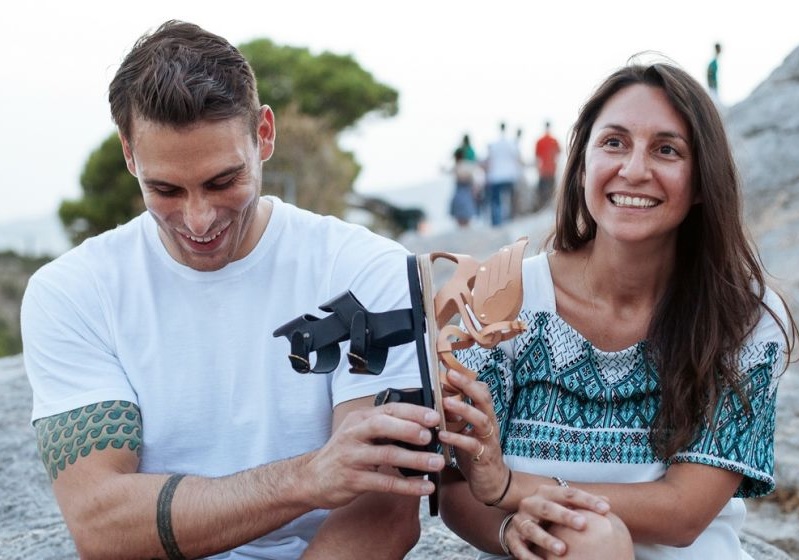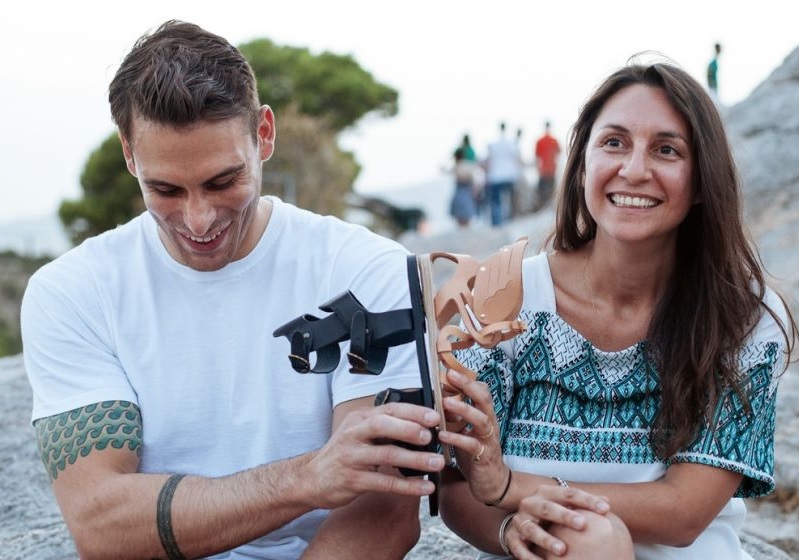 What do you get when you mix ancient mythology with contemporary style? Ancient Greek Sandals, that's what.
"According to an Ancient Greek myth, the gods and goddesses had their sandals made on the beautiful islandof Crete by a gifted sandal maker who enriched each pair with magical powers. Famous for having made the flying sandals for Hermes, the sandal maker also embellished them with his personal signature…a "golden wing" buckle."
And, with this mythological summary in mind, Christina Martini and Nikolas Minoglou set about realising their dream of creating beautifully feminine sandals infused with Ancient Greek historical references.
Handmade by skilled, local craftsmen using centuries-old techniques, Ancient Greek Sandals was launched for Cruise 2012, and are currently stocked at some of the best stores around the globe.
We caught up with the design duo behind the name to talk holiday spots, favourite spring trends and, of course, shoes.
Describe your typical working day
Christina: I mostly work in the mornings and I take care of my son in the afternoons.  I sit in my office to design; correct prototypes, choose colours and materials and in general organise things.  Because I live on the island of Corfu and not inAthens, where the sandals are made, I am on the phone a lot with the technicians in the factory explaining and organising everything. I travel a lot; I usually go to Paris, which is a nice break from the daily countryside routine.
Nikolas: I arrive at my office by 09:00 and find time flies as I try coordinating a million things at the same time! It is overwhelming at times but the feeling of satisfaction when I get things done makes up for it. Although I try to leave work by 17:00 in order to make it for my daily gym workout or swim, I usually work from home until late at night.
How many pairs of shoes do you each own?
Christina: Around 300 pairs without the Ancient Greek Sandals. Of course, I don't wear them all!
Nikolas: I own less than 30 pairs of shoes and they are all sneakers. I usually wear the same pair for a few weeks until it's run down and then move on to the next. I like my sneakers to look old and used. Sometimes I buy the same style in 2 or 3 pairs.
Tell us a little more about how the idea to set up Ancient Greek Sandals was conceived?
Christina: I always liked the traditional Greek sandals, which you can find in tourists shops on Greek islands. My idea was to create an evolved version with much better quality leather and more intricate design inspired by Ancient Greek Art and Mythology. When I met Nikolas, through a common friend, we realised that we had the same idea and dream. We started thinking about it and finally after almost two years our dream came true.
Nikolas: It was one of those ideas that you just know are going to be a success from the start. We both got to work with strong passion, belief and love for the idea and the rest followed. The fact that our homeland is currently going through such turmoil gives us even more strength to support Greece by giving work to local craftsmen and suppliers.
Who is your favourite shoe designer and why?
Christina: I always admire shoes by Prada.  It is amazing how they always set the trend of each season. Marc Jacobs' shoes are also one of my favourites.
Nikolas: Miuccia Prada is at the top of my list, especially the last three seasons.
Favourite shoe trend from the SS'12 catwalks?
Christina: The Prada Corvette mules
Nikolas: Prada's fast and furious wedges.
If you could design the shoe wardrobe of a celebrity for a whole year, who would you pick and why?
Christina: I like Diane Keaton's style back in the 70's. I think she would look great wearing AGS all year round, even in the winter with woolly socks!
Nikolas: Cate Blanchett. Her style is unique and her "mysterious" beauty inspires me.
Favourite holiday destination?
Christina: The small Cycladic Islands
Nikolas: Koh Samui, Thailand. I could drink fresh coconut water under a coconut tree on the beach all day. I especially enjoy visiting in the winter months.
Given the opportunity, which classic shoe would you recreate with an Ancient Greek twist?
Christina: The classic 70s boots
Nikolas: The Converse Chuck Taylor.
[Image]