Last Updated on 19th October 2013
It's that time of year again, when we watch a strenuous sport while gorging on lush strawberries and cream! Whether you're a spectator or a future Wimbledon star looking for on or off court style advice, we're here to help!
Sporty fashion has been one of the biggest trends for summer, and with the Olympics around the corner and Wimbledon kicking off today, it's no surprise we're in the mood for athletic attire! Fashionable athletic attire, may we add.
You could look to last year's most talked Wimbledon watcher, the lady with the pert derriere and killer wardrobe to boot, Pippa Middleton, who also decided to follow in her older sister's thrifty footsteps and recycle a red dress she wore to two different days at Wimbledon. A killer spectator dress will make for some fun watching, surely!
Whatever your style or sporting aspirations for Wimbledon 2012, take a little inspiration from our Tennis Chic edit to ace it both on and off the court. (Pun intended.)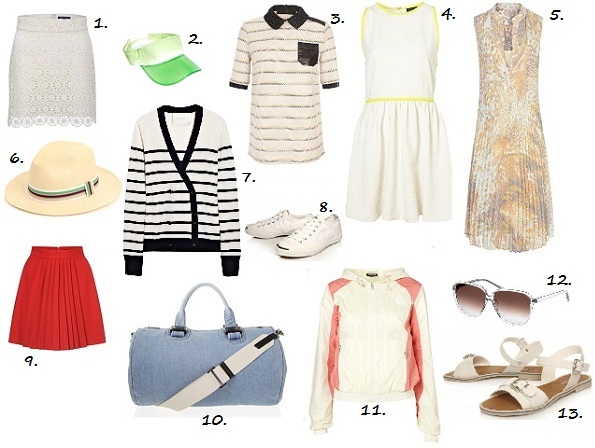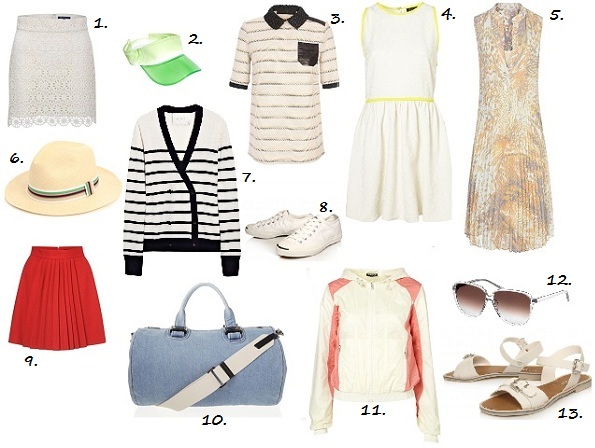 1. Lisella lace skirt, £87 £58.50, available at French Connection
2. Dip dye visor, £15, available at Asos
3. Proenza Schouler Striped raffia polo shirt with eel skin details, £665 £335, available at Browns
4. Fluro piping skater dress, £55, available at Topshop
5. Stila pleated dress, £189, available at Reiss
6. Sensi Studio classic Panama hat, £88, available at Matches
7. A.L.C Jasper striped cashmere cardigan, £485 £169.75, available at The Outnet
8. 'Helen' Converse, £50 £35, available at Kurt Geiger
9. Arte pleat skirt, £44, available at French Connection
10.Meredith Wendell Washed-denim duffle bag, £440 £154, available at The Outnet
11. Airtex Mix Hooded Bomber Jacket, £30, available at Topshop
12. Catwalk sunglasses, £60 £30, available at Jaeger
13. Kurly sandal, £75, available at Kurt Geiger