Last Updated on 19th October 2013
A French label always gets us excited: Gallic charm; insouciance in the way the clothes carry themselves, and above all, that just-arrived-from-Paree feeling we get every time we slip into something of francais heritage.
Sandro is that label. A Parisian fashion house whose clothes radiate insouciance with a razor sharp edge. It's Emanuelle Alt, after she's spent a week living with Rihanna; sharp, sleek tailoring with contrasting, outstanding street detail that has us wanting to devour the entire collection as if it were fashion chips.
Working with a palette of electric blue, grey, bottle green and Bordeaux for autumn/winter 2012, Sandro offers style and pocket-conscious shoppers the perfect, mid-market sartorial antidote to the pricey, high end Fall collections that are oh-so-desirable, yet financially destructive!
Denim has been fashioned in delectable variations, ranging from shock-inducing block colours, to leopard print and boasting eyelets lace and zip details to add an interesting edge.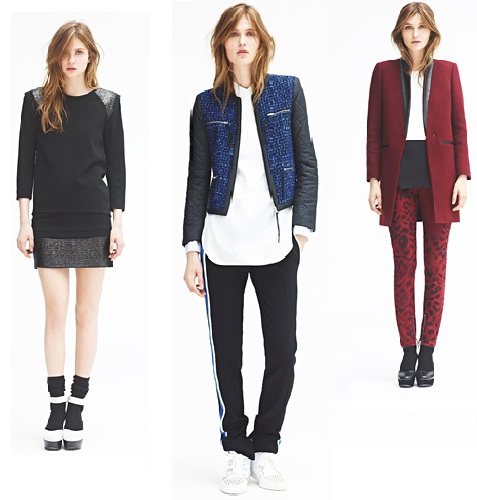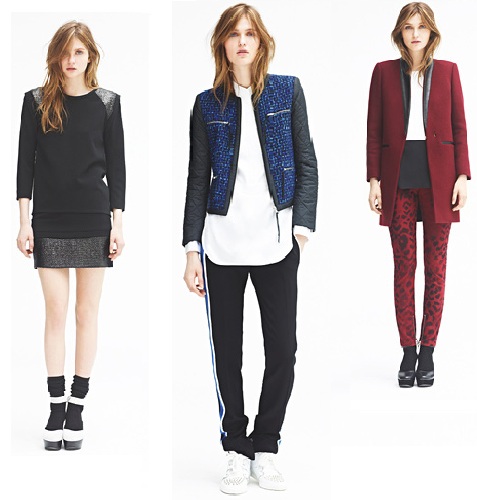 The Sandro girl doesn't compromise style for comfort, instead merging them together and wearing it in the form of an oversized chambray shirt, or a cosily chic lambswool, angora and cashmere mix sweater. Blouses, shirts and vests come emblazoned with circus prints, tiger heads speckled complementarily amongst polka dots and a russet coloured silkscreen top that has us drooling at its high end look, high street price!
Outerwear and accessories are hot Fall favourites, too, as the Sandro girl embraces an uber-luxe fur-trimmed leather jacket, coats boasting military details and leather-trimmed mannish coats in melange tweed, whilst accessories take a functional turn in the form of zipped, wristlet clutch bags and roomy, embossed leather satchels in want-now hues.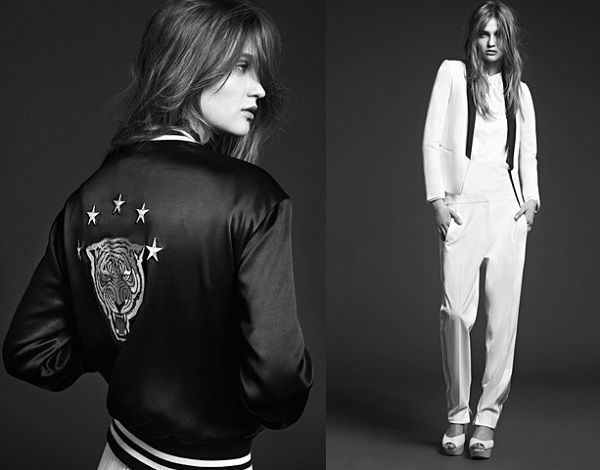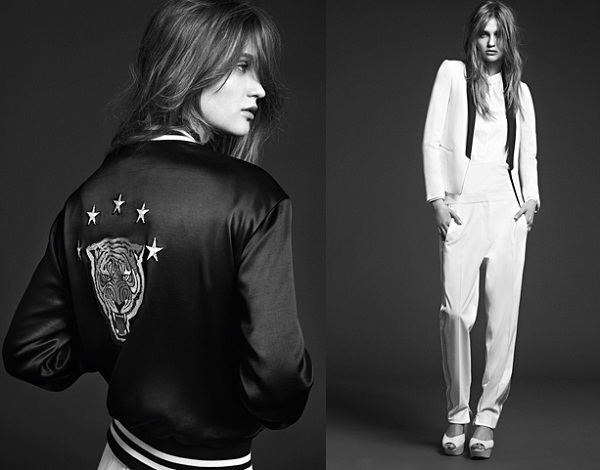 Shoes for Fall, you'll be pleased to know, don't fall into the blister-causing category. A moccasin suede studded slipper touches on the super-comfortable slipper trend, while Sandro's classic sneaker, the Albatross' is reworked in want-now variations of denim and pink leather and leopard print. Heel lovers, don't despair, instead snap up the Abracadabra; a slingback platform heel in uber-luxe goatskin.
An overall desirable collection boasting season-transcending pieces with a gritty edge, in wardrobe- building colours and cuts that aren't too trend-led. If chic could be comfortable with a tinge of street style cred, it would probably look like this collection.
Hero buys: Volume Jacket (£275); Smile Sweater (£171); Eternal Top (£100)
View the autumn/winter 2012 Lookbook here.
Check out the complete new season womenswear collection here.