Yep, it's the final day of London Fashion Week (sniff), and as the old saying goes, some of the best shows were saved til last… especially when referring to the Mulberry show that kicked off at 10am this morning!
Those of you following us on Twitter will have already seen a few cheeky pictures that we took of the collection, the celebs, the gnomes (yes, there were gnomes), the complimentary rainbow cakes and even an adorable Mulberry-clad dog we met in the queue called Berry! However, now it's time to get up close and a little more personal with the collection, as we've selected a few of our stand-out looks for you to gaze at below. We also attended the Ashish show this afternoon, which we thought was a perfect ending to a wonderful spring/summer 2013 season in London.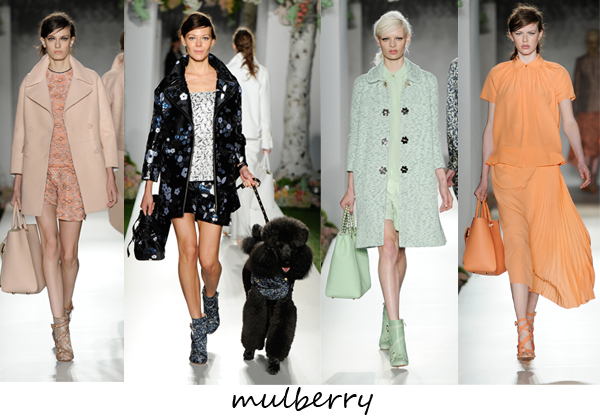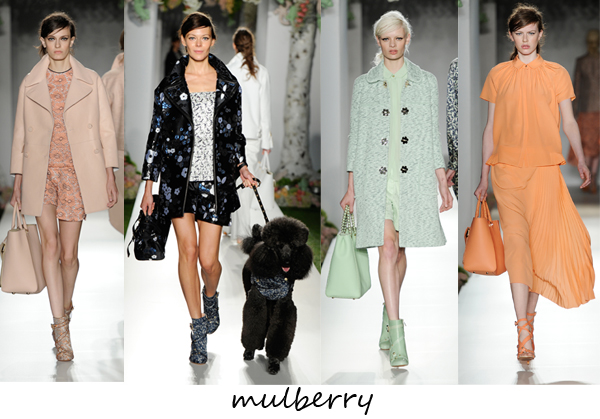 Who: Mulberry
What: Rainbows, watercolours – an "English summer" at its best. There was a bit of a mix on the Mulberry catwalk this season; we had a feeling we were going to get a colourful collection from the paint set invite, but it was a tasteful, refreshing bit of colour as opposed to something more wild and overbearing like in some of the collections we've seen this LFW. (That's not to say we didn't like them, au contraire we love a good burst of colour, but we love Emma Hill's balance.)
There was an abundance of leather in the collection, as well as relaxed shapes and silhouettes – perfect for summer! We saw new visions for the classic Alexa and Del Rey bags, and Mulberry also launched the Willow collection, which we'll tell you more about at a later date.
Highlight: We had the Mulberry Monster last season, and while we don't think anything will top him, the little – and some large – garden gnomes scattered around Claridge's were a really nice touch. No one does attention to detail quite like Mulberry. The star-studded FROW (the likes of which included Olivia Palermo, Kate Moss, Alexa Chung, Lana Del Rey and Jessica Ennis) was also a highlight.
To summarise: Described by Emma Hill as a "blend of Mulberry's English country heritage with a sorbet summer palette" – a perfect summary if ever there was one!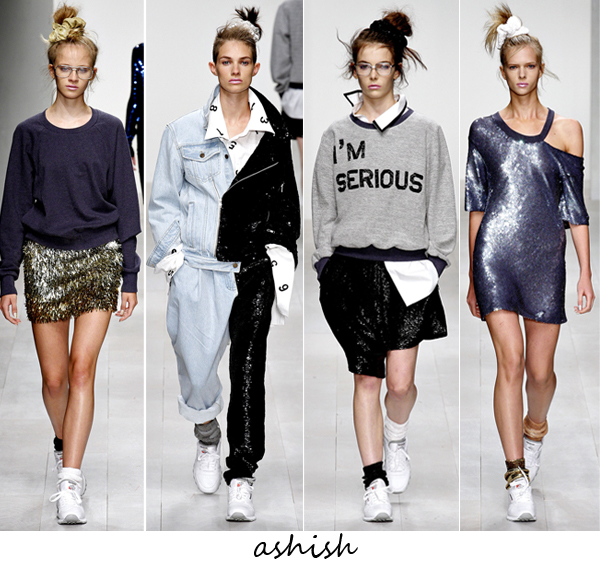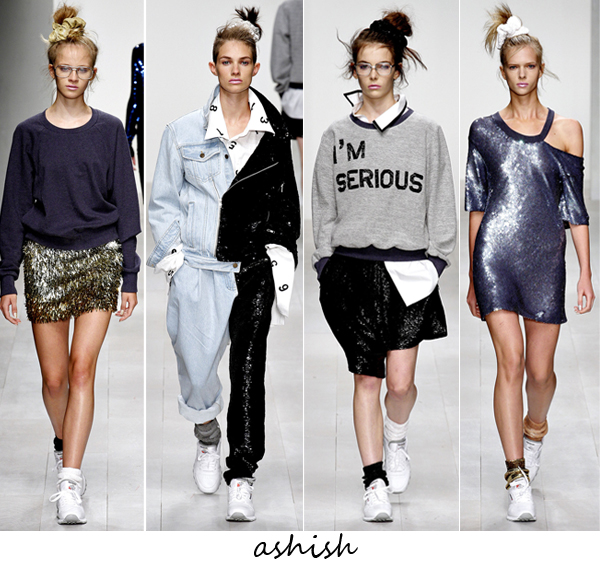 Who: Ashish
What: A literal mix and match collection, comprised of a selection of fun yet abstract separates – something a little bit different to last season's offering, but with the trademark Ashish qualities that we know and love. The signature biker jacket still had its outing, as did see-through sequin jumpers, jumpsuits, printed shirts, slogan sweaters, glittering socks and pristine white trainers – all teamed with messy top knots and geeky glasses! 
Highlights: We have to say it's the glittering socks that have got our vote. If the socks and sandals trend is going to stay, we think glittering socks are the way to go about it!
To summarise: "Cool, calm but highly uncollected" according to the show notes. Have to say that we agree there!