Last Updated on 12th February 2018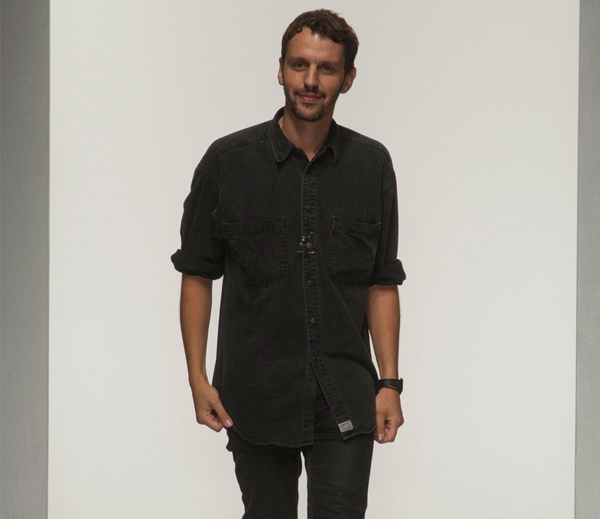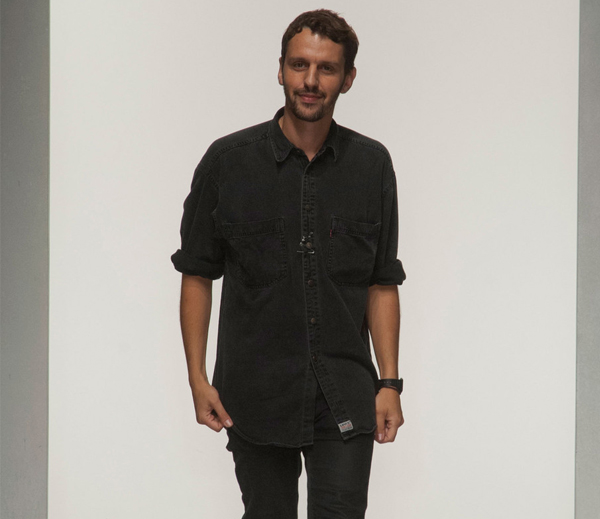 Yesterday we showed you all eight gorgeous looks from the highly anticipated Marios Schwab for Debenhams Edition collection, and as promised, it's now time to treat you to the interview we conducted with the main man himself.
We managed to peel Marios away from the launch of the collection for five minutes, and asked him to talk us through the range in his very own words. We also asked him about his muses for the collection and what his absolute favourite dress was… he even divulged some interesting and unmissable styling advice! So without further ado, we present you with five minutes with the legend that is Mr Marios Schwab. Enjoy!
Tell us, how did this amazing collaboration come about and why did you want to go ahead with it?
Well I've been asked from Debenhams to do a capsule collection of signature key looks that are an interpretation of the Marios Schwab brand, and it was interesting to meet a completely different customer and adapt signature key pieces from the signature of the brand.
I certainly want to make people dream when they wear my stuff and feel enhanced and elevated because that's what fashion should be about; it should feel like you're living a true fantasy.
What's the typical customer for the collection?
It's for somebody who is quite specific; the customer is very fashion conscious and she likes to look at fashion from a different angle and it was interesting for me too as it was a learning curve and it was an open minder. You need to challenge yourself in different ways of producing the garments and it was really interesting to do it together with the Debenhams team.
Were there any challenges?
There's always certain obstacles that you're going to meet from a project that's different from what you do. Learning the history of the brand that you're working with and the criteria and how they look into a new product etc. It was a welcoming experience because every project like that is quite good, you kind of learn to adapt yourself. Without challenges, it's too normal to work on just one specific thing.
What's your favourite piece from the collection, if you had to pick just one? 
I really like the red dress as it's demure and it combines jewellery together with feminine colour and it looks very femme fatale!
Did you have anyone in mind when creating the collection? Any muses or celebrity faces?
Whenever I design a collection it's the combination of the girl next door, together with the combination of the woman who has been wearing Marios Schwab for a long time, like Kristen Stewart for example, and other actresses that live and work in LA.
The collection has been travelling a lot recently, and it's quite interesting to see how much appreciation is around the red carpet. We tried to bring a glimpse of that into the collaboration with Debenhams. And certainly the next collection is going to be more separate pieces, and more longer gowns.
How much of this collection reflects your current ready-to-wear collection?
There's always an interpretation of what I've been doing with the mainline collection; there's always hints of something that's very actual and something that's very key from previous seasons, that's always going to be apparent with the collection for Debenhams. The look is very signature, it's very much about the body and the proportions of the body and it's challenging stuff like classic techniques of embellishments and certain aspects of feminine dressing in a very contemporary way and ways you can interpret it yourself.
So you'd like us to vamp up the dresses in our own way?
Yes! For example for the two-layer sequin dress, you can wear your own dress underneath or wear denim underneath with a flat sandal during daytime. I like the thought that the girl will buy the dress and buy her own jewels and her own belt and she will make it her own. I like eveningwear growing into daywear and vice versa.
What's your personal style like at the moment?
I'm such a causal guy, because I work so much with fabric and colour, I tend to concentrate on casual things that I can move easily around in and do the fittings and everything. I'm a hands-on person so I like to do the dirty work in the studio. I like to take charge around the business, and have my eye on every aspect.
What trends are you loving this autumn/winter season? What advice would you give to our readers?
First of all I think it's important for you to be opinionated and have your own way at looking at trends. You have to choose fashion the way it looks on you and makes you feel super glamorous and super comfortable, especially when you go into occasionwear.
Bringing graphic detailing that modernises a look together with something that's very natural and stays true to heritage. Flowers, together with great graphic details that are a juxtaposition is something I really appreciate at the moment.
I also love bold colours because it brings a positive aspect of fashion; as long as they're not outrageously loud and they don't overtake your personality, because then you're just wearing a dress and you're not wearing yourself.
Who's been your favourite person to dress?
Women who have their own ways to wear Marios Schwab. Kristen Stewart has been a fan of the collection for quite some time. Also icons like Kate Moss.
Everything can be too cloned and it's interesting to see young people buy into fashion and then have their own way of analysing it and taking key pieces from the collection and turning them upside down… and then they become something different.
What's next for Marios Schwab?
The idea is to grow the collection for Debenhams. Marios Schwab is becoming so interesting at the moment in terms of trends and dressing. We'd like to expand globally, and we'd like to travel with the collection, We are travelling close to Brazil and Hong Kong and LA, and we have certain clientele we'd like to work with.
It's very exciting because every time you see a different element of fashion; one minute it's the girl next door that you see on the street, and then you see a celebrity wearing Marios Schwab. It's always really interesting to see how a woman wears a gown that has been worked out so intensely for three months and then, then it's on the catwalk, then it's in editorial and then it's on a red carpet. I'm always thinking of the next step and the next show so it's always an adventure.
Final question for you… how are you spending your Christmas this year?
I always spend it with my family! We either go to Athens or we go skiing in Austria; it's usually very humble and beautiful to be with them and spend luxury time, because it's always so limiting to see your family when you work in fashion because you have so many other commitments with the collection. So I look forward to it.
Thanks again to Marios Schwab for taking time out of his busy schedule to chat to us; you can shop his debut collection for Debenhams right now!