Last Updated on 29th April 2014
[noskim]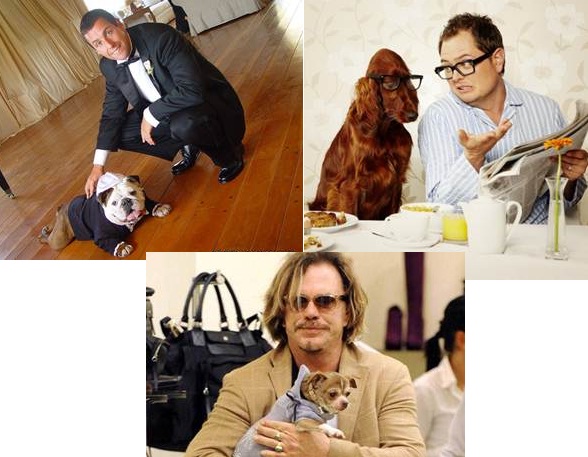 The idea that dogs come to look like their owners – or vice-versa – is a common one that seems to be further proven when photos appear of the pairing. Research recently published by psychologist Lance Workman indicated that there may be a link between dog owner's personalities and their choice of pet. According to Workman you can identify certain aspects of peoples' personalities by their pet choice.
Apparently "agreeable" people tend towards Labradors, extroverts to Corgis – and fans of small, toy-sized dogs tend to be more intelligent. Previous research by Workman has indicated that people can pick a dog's owner out of a line up based purely on appearance-based factors.
Let's take a look at a trio of celebrities and their dogs, and see what similarities we can find.
Adam Sandler and his bulldog Babu
Adam Sandler has been responsible for some of the biggest comedy films of the last few decades – but he's also been criticised for re-visiting the same ground too many times. He brought elements of gross-out humour to the main stream and it made him millions of dollars. But he also has a more sensitive side, appearing in straight acting roles in films like Punchdrunk Love.
He's also a well-known dog-lover, often posting videos of his dogs on his website. Babu is his bulldog, and there are certain similarities between them. Both have "hangdog" faces – it's necessary in a comedian. Both have strong builds which could be seen to indicate a stubborn, tenacious nature, something Sandler certainly has – he's kept releasing films for years after his initial success, and he always bounces back from less-successful projects. And both Sandler and his bulldog are lovable – a big part of his success and their appeal as a pet dog breed.
Alan Carr and his red setter Bev
Alan Carr has quickly become an institution on British television. His trademark combination of pop-culture smarts and old fashioned, double-entendre language-based comedy has made him ubiquitous, like a kind of one-man latter-day Carry On franchise. He's the proud owner of an Irish Setter called Bev, and while the most obvious similarity is missing – red hair – there are still links between them. Both Carr and his dog share a kind of physical clumsiness; red setters are big lolloping dogs, and young ones can be reminiscent of foals trying to find their feet; Carr has often spoken about how bad he was at sport as a youth, and his ungainliness arguably adds to his comedy now he's an adult.
Mickey Rourke and his many Chihuahuas
Now, this one may seem like a stretch – Mickey Rourke is known for being physically imposing, and Chihuahuas, well… they aren't known for being physically imposing in the slightest. But Rourke's link with his dogs is very strong. Like Chihuahuas, he's scrappy – he's been through the wringer emotionally, financially and physically. He's also unique – he dresses how he wants and doesn't look like the classic movie star anymore – not since his break from acting to pursue an amateur boxing career. Also like Chihuahuas, Rourke is often surprising – his imposing exterior hides a sensitive and subtle actor. Chiuahuas tend to be the opposite, being more outgoing than you'd expect for their small frames.
If you love your dog you'll want to keep it healthy. Go to The Co-operative to get competitive pet insurance quotes, helping to pay for vet bills and other costs to keep your lovely dog happy.
[/noskim]