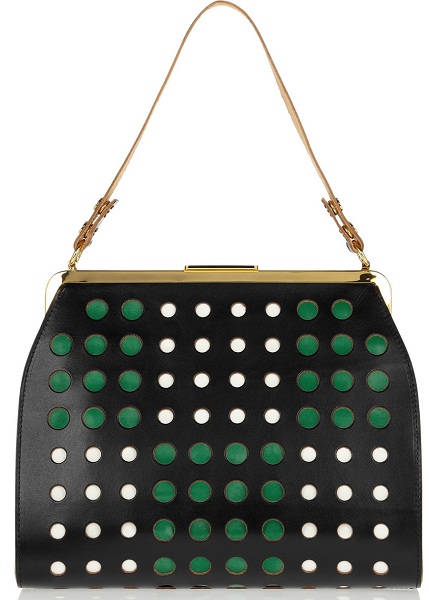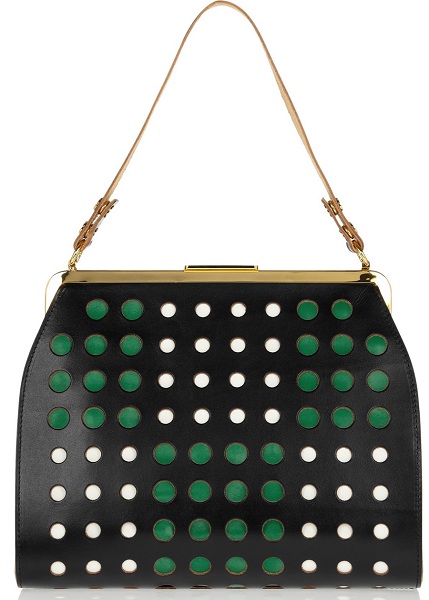 Leaving behind autumn/winter's heavily ornate and richly-hued wares, spring/summer 2013 is definitely a sartorial palette cleanser. Barely-there, body skimming fabrics aside, embellishment is literal and micro prints take a hiatus, as hyper versions replace them.
So, it's no surprise one of the most literal representations of prints (Marc Jacobs' checker boards aside), polka dots would be big for SS'13. Italian favourite, Marni decided to splash the most coveted of handbag styles in the humble disc, and made us, well, fall in love!
The Polkadot Bag Collection is an eyeball pleasing confection of ladylike-yet-practical shapes emblazoned with pretty polka dots in Connect 4-esque colour ways. But it was the Perforated Leather Shoulder Bag from the collection that really got out arm candy radar going; its feminine structure, luxurious calf leather exterior and flattering gold-tone hardware make it the ideal handbag investment.
As lustful as it looks luscious, this Marni polka dot beauty comes with a green and white underlay, perfect for styling with a colour block outfit for maximum pattern-on-colour impact. But as with all new wardrobe additions, a savvy shopper will weigh up the pros and cons of a purchase before going in for the (sartorial) kill. And here are our very own reasons for and against this piece of arm candy:
Yay
Reasonable price point – Marni's price point, although not the cheapest, rarely exceed the £1000+ mark, and, so, with a little sensible saving, this £660 bag is an attainable treat for fashion lovers.
Practical – The black shell makes this bag ultra-wearable, and the perforated detail in green and white is attention-grabbing without being garish. The adjustable top handle makes it a practical-yet-pretty solution to carry essentials from your arm, or sling over your shoulder for a hands-free option.
Nay
Tire easily – Being a season-specific bag, rather than a classic, season-transcending style, the distinguished polka dot design could result in a one-wear-then-despair situation.
Size – Although practical, the Perforated Leather Shoulder Bag probably wouldn't serve those looking for a throw-it-all-in bag well. Tote and shopper lovers wouldn't appreciate the space restrictions of its structured shape, and this could limit use.
Are you sold?
Marni Perforated Leather Shoulder Bag, £660, available at Net-a-Porter