Last Updated on 19th October 2013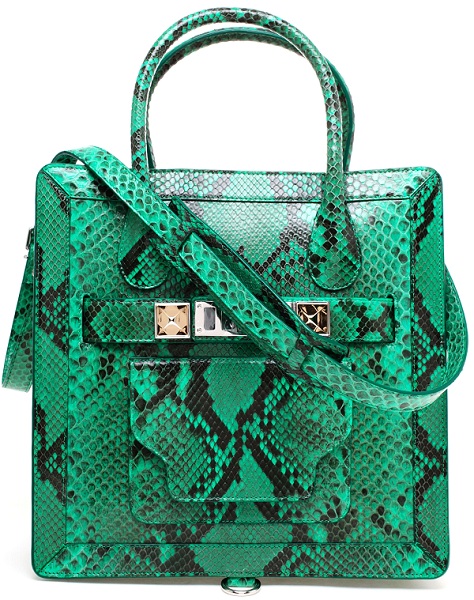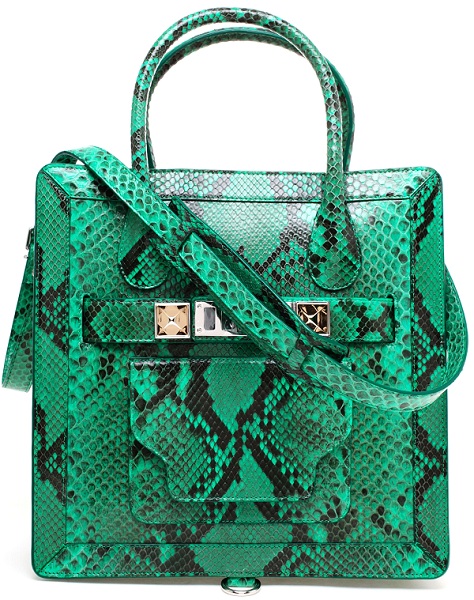 Proenza Schouler is one the most anticipated shows during Fashion Month. But their accessories, in particular the bags, are hot tickets for the fash pack, coming in a selection of practical sizes yet still retaining that element of fashion forwardness so regularly associated with the dynamic brand.
Getting us into a handbag-induced tizzy for this week's Yay or Nay is the PS11 Small Python Leather Tote. Thanks to the stand-out tropical green colour, exotic python leather exterior and signature Proenza stud hardware detail, this bag seems like the luxury handbag indulger's ultimate dream item.
But being a dream item isn't enough any more.  In a time where 'It' handbags are aplenty, and designers fight tooth and nail to fill virtual shelf space as well as in store space with commercially attractive goods, the products had better be easy on the eye and practical, all rolled into one.
So if you're on the hunt to land that perfect luxury bag, here are our three reasons for, and against bagging the PS11 Tote:
Yay
Size: As much as we love the PS11 shoulder bag and its mini version, the fact remains that the smaller styles aren't any good when it comes to cramming your life in to them. A tote is a practical choice for serial stuffers.
Alternative to the popular choice: It's no secret that Proenza Schouler's pricey accessories are a major hit on the fashion scene, and with nearly every other blogger carrying the PS11 shoulder bag, it's a shepherd or sheep sort of situation. The tote will allow you to adopt the PS craze without repetition.
Practical statement maker: The eye-catching green colour sets the PS11 tote apart from the conservative bag clan, but the top handles still keep it modest enough for the office. Sling over your shoulder using the detachable, adjustable strap for off-duty cool.
Nay
Price: Unfortunately, luxury arm candy doesn't come cheap, and with a 100% python leather exterior, the £1,715 price tag is, well, expected. Not one for the faint-hearted bag budgeters.
Colour: If your handbag collection is rather colour-conservative, then a tropical green hue may not be the best choice to invest in. Although the colour is the main feature that attracted our hot product scanning eyes, the PS11 tote would only fight for attention when paired with a vibrant outfit. Better leave the bright, printed pants for another day.
Trend-centric animal skins: If you're a lover of exotic skins when it comes to accessories, then the PS11 Tote is good news. But if you prefer to be rid of all reptilian skins (which automatically attract a high price tag) when it comes to handbag shopping, but still want to retain an element of luxury and a wear-with-anything feel, then opting for a classic leather bag is the best option. Although this bag has an air of ADR about it, if it doesn't work with the majority of your wardrobe then it's an investment fail and yours is one very empty bank account.
Proenza Schouler PS11 Small Python Leather Tote, £1,715, available at Browns