Last Updated on 19th October 2013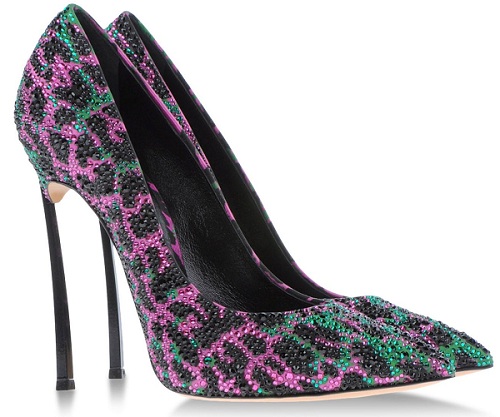 A sexy pump is a wardrobe staple in every discerning shoe addicts collection, and when it comes to working magic on your feet no one does it better than go-to sexy shoe brand, Casadei.
Office-appropriate black; a burst of colour in striking cobalt and suede or a classic, mid-heel patent version paying homage to The Moss, whatever your design inclinations when it comes to shopping for the perfect pump, we're sure the Jungle Pop Blade pump will throw all style inhibitions out of the window. It's all about serious bling for your feet!
Swarovski-encrusted and with a jaw-dropping 5.3 inch heel, becoming gob smacked is an understatement when you lay your peepers on this pair. The iconic 'Blade' pump has been revamped with hand stitched crystals and an animalier pattern wash in an eye-catching fuschia, emerald and black colour concoction.
Here are our three reasons for and against putting your name to a pair of these (ridiculously beautiful) heels:
Yay
Collectors' item: part of the brand's Hero Collection, these precious jewel heels are the closest you'll get to wearing diamonds on your feet! The kind of shoe you'll hand down to your daughter (if you don't wear them to within an inch of their life, that is).
Flattering colour way: The tri-colour palette makes the Jungle Pop Blade pump all the more fun to pair with a simple tee and boyfriend jeans for a casual-meets-luxe look, or as a clashing accompaniment to a bright, evening ensemble for full on glamour,
Statement heel personified: need we say more?
Nay
Sky high price: almost as high as its heel, the price tag (a gulp inducing £1,650) will have you in rent arrears and a whole luxury handbag behind your planned bag collection strategy. Not good.
Sky high, ankle-cracking heel height: this 'nay' is pretty self explanatory. The slightest slip in these 5.3 inch babies and it's bye-bye normal life, hello plaster cast for a few months. Unless you're a seasoned runway model, Victoria Beckham or Chloe Green (have you seen the heel heights for her Topshop collection?!), you don't stand a chance. No, really.
A potential one-wear-then-despair pair: Although we've awarded the Jungle Pop pump collectors' item status, it could easily fall into the renowned one-wear-then-despair category – especially if you quickly grow tired of patterned items in your wardrobe, and, also because you're sick of envious party-goers stepping on you toes (literally) and destroying the 'foot party' you have going on.
Jungle Pop Blade pump, £1,650, available at Shoescribe