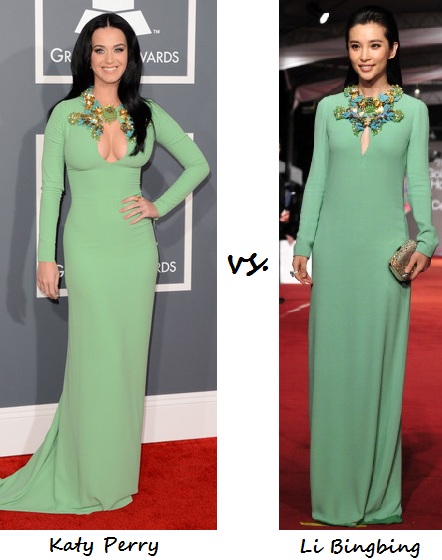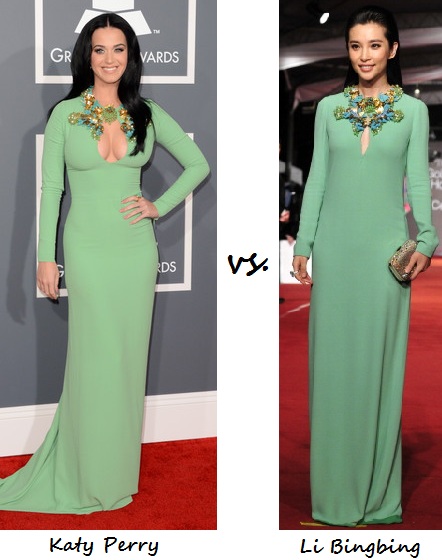 One dress, two stars: the ultimate fash-off accessory this week is a summer-perfect, minty-fresh dress from Gucci's Resort 2013 collection.
Chinese actress and singer, Li Bingbing, was the first to slip into said dress at the 49th Annual Golden Horse Awards in Taiwan, last November. Opting to pretty much replicate the look exactly as it was shown on the catwalk; Li carried a platinum clutch and swept her hair away from the face, to reveal the ornate floral neck detail.
Katy Perry also sported the same dress to the 2013 Grammy Awards, but decided to offer up more than just a statement neckline! The key-hole neckline (that's polite for boob window) was more than stretched, after Katy spilled her ample cleavage into the stunning dress. A neutral palette on the face, strong eyes and glossy black locks completed her look.
Two very different looks were achieved with an identical dress; with Li taking a more demure approach to the well-endowed Katy. But whose look do you prefer? Although Katy did make our Grammy's Best Dressed list, the ample cleavage on display is quite a distraction, almost battling it out with the decorated neckline for attention!
Both ladies look equally exceptional in the dress, but Katy's overly-revealing look is a little, well, hard to ignore. Li, you get our vote this week!
Do you agree with our fash-off verdict?