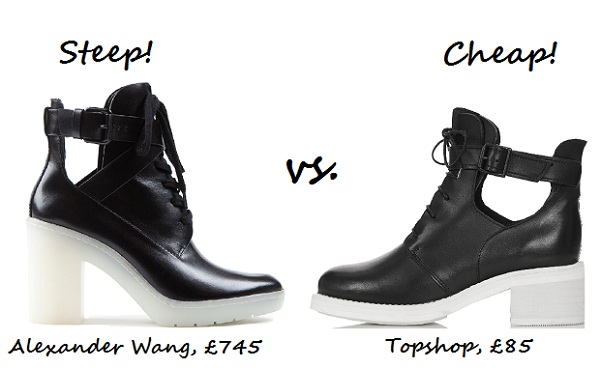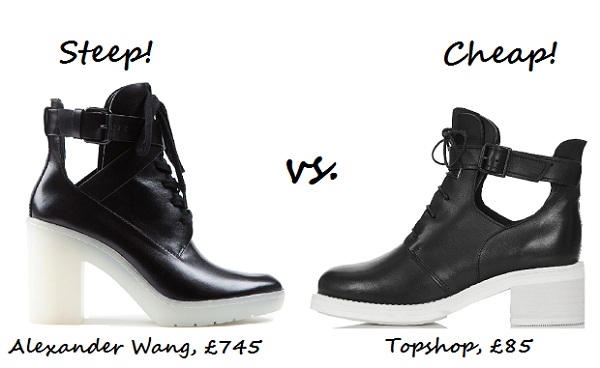 Cut-out boots are having quite a moment. From Balenciaga's chunky but pricey ones to varied high street replicas; worn without socks or with Fearne Cotton-style ankle grazing ones, they're fast replacing the wedge sneaker – especially in the comfort stakes.
So, when we spotted none other than Rita Ora, the Queen Bee of alternative fashion mash-ups, sporting a lust-worthy cut-out boot front row at the Chanel Couture show in Paris last month, their 'Hot Right Now' status was cemented.
But Rita's Alexander Wang 'Jill' boots matched her available fashion budget too, cashing in at a pricey £745. Urban to perfection, we love the buckle and lace-up detail, along with the on-trend white platform.
But for those of us not blessed with Jay-Z's Midas touch, a budget version is available! Head over to high street haven Topshop, where you can pick up a similar version for a pocket-pleasing £85.
So, will it be a spend or splurge kinda shoe situ for you?
Steep: Alexander Wang Jill lace-up leather ankle boots, £745, available at Selfridges
Cheap: Aftershock cut-out lace-up boots, £85, available at Topshop