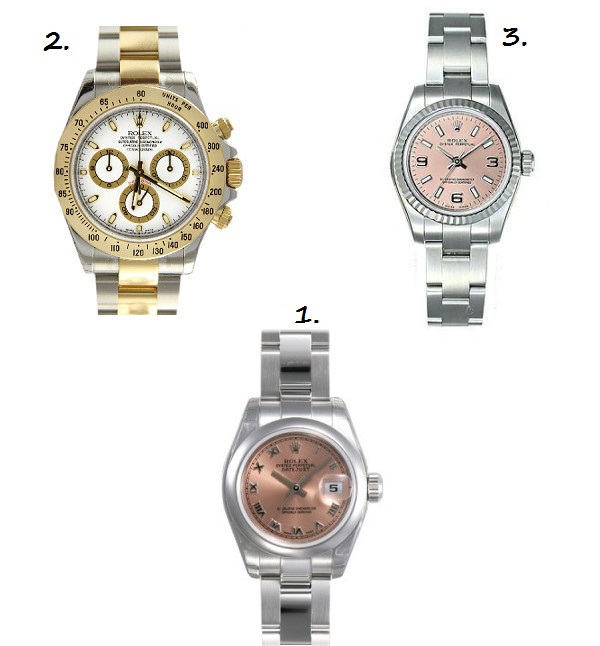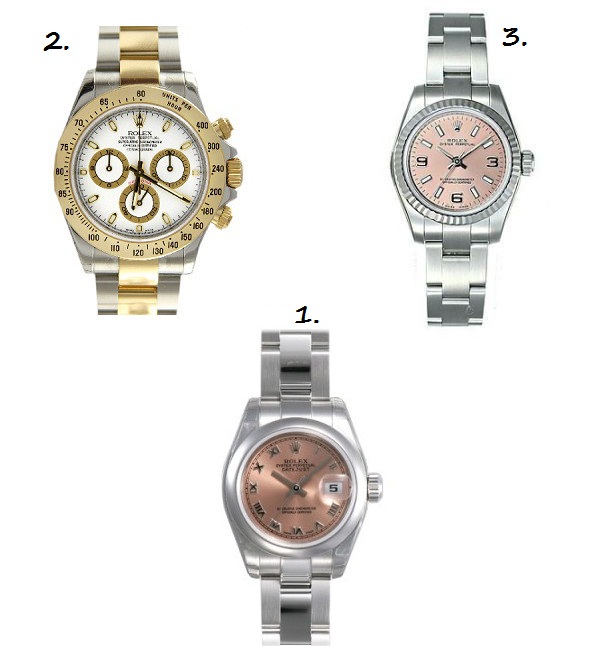 "Watch out" ladies, after years of men's watches ruling the roost, the luxury timepiece for women is back with a vengeance! (See what we did there?)
When we hear the term Luxury watches we often think of the 'Swiss' made timepieces from the likes of Rolex, Chopard and Cartier… and as we all know, they don't come cheap! However that's not to say that they're not worth investing in… especially considering how many brands are creating new timepieces for women. Not to mention the increase of female celebs wearing luxury watches!
We got our hands on some fun facts and figures from market research company 'Millward Brown', who identified several luxury watch makes and ranked them in ascending order. We particularly enjoyed its Rolex section…
Rolex's brand value stands at $7.2 billion. This is an increase of 36 per cent from 2012 which is remarkable given the dreadful economic climate. It is however no coincidence that this increase co-indices with the rise in popularity of women's timepieces.
It is the Rolex brand that will emerge victorious in the race to dominate the ladies watch sector. Therefore ladies, here a heads up on which Rolex timepieces you should be looking out for.
1. Lady-DateJust
The Lady Datejust is chic, elegant and timeless and embodies the Rolex brand perfectly. It was the first wristwatch to feature the date when it was released in 1945. Its name identifies its selling point, the unique "cyclops eye" which magnifies the date at the 3 o'clock position.
Key features include:
26mm and 31mm case
A 36mm case due to the demand for over-sized women's watches
Available in steel and yellow, white and everose gold with different coloured dials
Diamond studded versions
Special editions featuring unique designs.
The Rolex Lady Datejust will become the Mulberry bag of the watch world.
2. Lady Oyster Perpetual 176234
The Lady Oyster Perpetual is perhaps the simplest design in the range. It is stylish, understated and robust. It also features the infamous 'oyster' style bracelet. Other key features include:
26mm case
Fluted bezel
Self-winding mechanical movement
Available in steel, gold and rose gold with different coloured dials
The Lady Oyster Perpetual will be the Chloe bag of the watch world.
3. Men's Rolex Daytona 116523
Does it surprise you that we have included a men's watch in this list? Over-sized watches are still a significant trend therefore women buy men's watches for the larger size. A favourite is the Rolex Daytona.
The Daytona is famed for being designed for motor racing. Its features lend themselves to the accuracy and precision it takes to formally record motor racing performances:
A patented chronograph and tachymetric scale on the bezel
Three sub-dials count the hours, minutes and seconds
The tachymetric scale letting you calculate your speed by measuring your elapsed time over a pre-determined distance
Available in steel, yellow gold, white gold and everose gold
Leather or Rolex's signature oyster strap
Variety of dial colours
The Rolex Daytona will be the Balenciaga bag of the watch world.