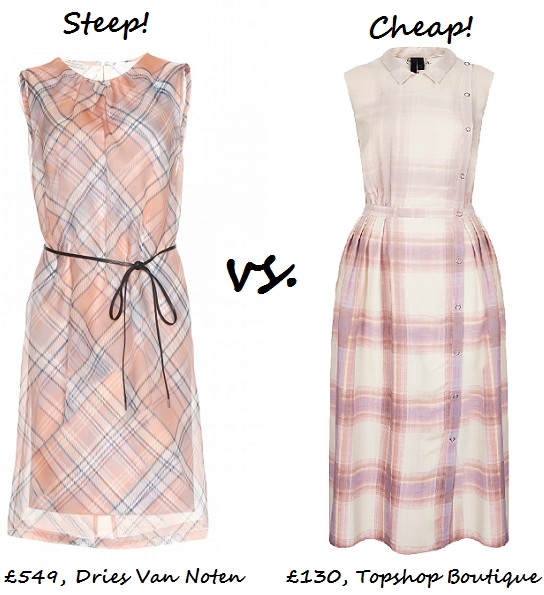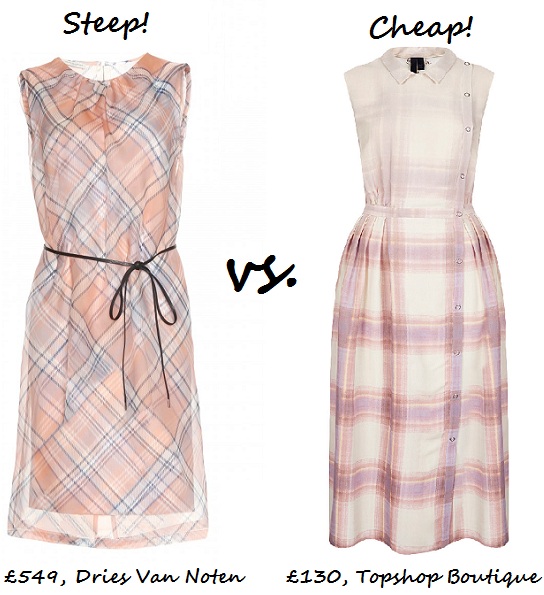 Check and plaid prints pretty much took over our lives when they made their eye-opening debut for spring/summer 2013.
Our favourite looks came courtesy of Dries Van Noten, where dreamy, veiled layers intermixed in a super-wearable way, whilst over at 3.1 Phillip Lim we enjoyed checks and plaid artfully paired with detailed florals.
So, how to buy into the trend, you ask? Well, there's the expensive way, or the pocket pleasing way (you know which one we're going with), and we're about to reveal the secret of both!
First up, making our tongues wag and our pockets empty is the deluxe way to try this trend. The Danica Plaid dress by Dries Van Noten is a fashion lover's dream come true, with its grunge-meets-summer-cool appeal. The sheer chiffon overlay and belt detail is heart melting, but before you cave in, the price is worth considering: at a budget restraining £549, you'll be seriously cutting into that summer style fund.
But when there's a Topshop nearby, there's a way, and we've found it! Coming in at £130 – a snip of the whopper price tag above – we love the Sheer Back Check Dress from Topshop Boutique. The delicate organza silk back detail is a winner and we can't wait to pair this number with pretty metallic heels when the sun finally decides to make an appearance!
Will you be splurging or spending?
Steep: Dries Van Noten Danica plaid dress with chiffon overlay, £549, available at My Theresa
Cheap: Sheer back midi check dress, £130, available from Topshop Unique