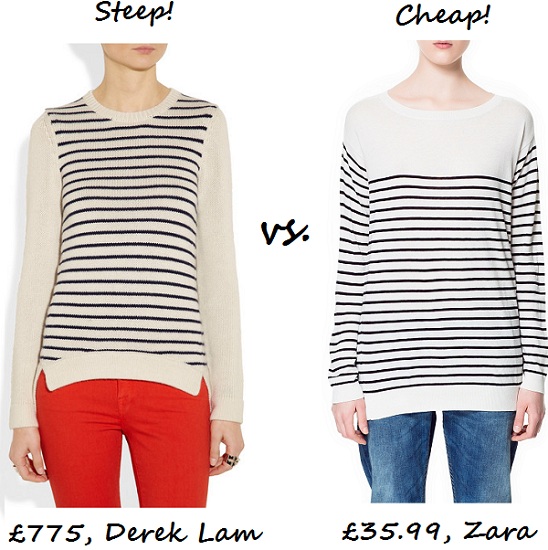 With its gamine allure and a reworking at the hands of fashion greats, including Jean Paul Gaultier and Coco Chanel, the Breton stripe has stood the test of time, trend and style.
The perfect finishing touch to an off-duty ensemble, the Breton stripe injects the same dose of chic each time, and for this week's Steep vs. Cheap options, we love it in sweater form.
Making its mark at the high end this week is the Breton striped cashmere sweater by Derek Lam. Spun in luxe cashmere and boasting a longer back hem and stylish ribbed trims, this classic-cool piece rings in at an eye-watering £775!
Can't stretch to such epic financial proportions for the humble Breton stripe then look to this pocket-friendly alternative from High Street saviour, Zara. A super-comfortable mulberry silk and cotton blend, the sweater promises a relaxed fit and makes the perfect option for dressing down jeans and heels for the weekend. Cashing in at £35.99, you'll be left with enough change to warrant an extra purchase, or three!
So which one will it be for you; a cash splash or a more modest approach to adopting the pretty Parisian stripe? Credit cards at the ready, shop both options below.
Steep: Derek Lam striped cashmere sweater, £775, available at Net-a-Porter
Cheap: Silk and cotton sweater, £35.99, available at Zara