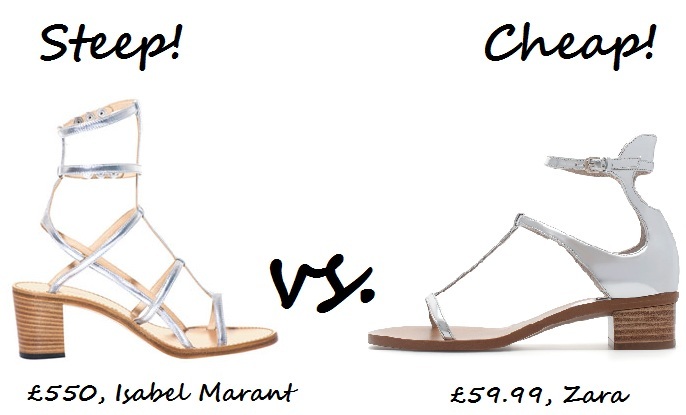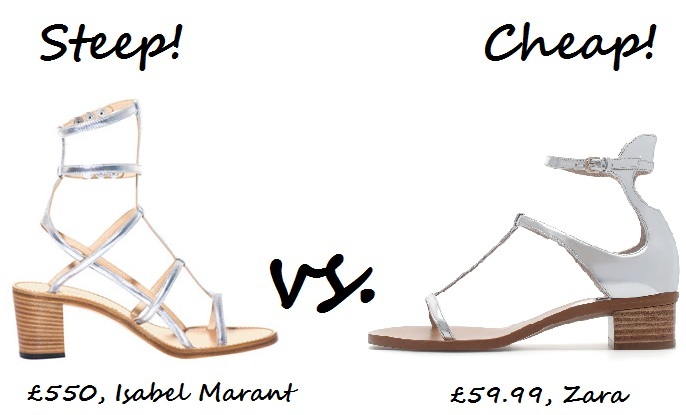 Although we're still living in winter when it comes to the weather, there's nothing to stop the constant stream of sun-soaked fashion thoughts flooding into our minds evey time we open our closets.
With out entire summer wardrobe staring back at us, waiting patiently to be worn, we can't stop adding to our already burgeoning collection of sunny wares, and this week's Steep vs. Cheap buy is no exception.
Forcing us to step out of our snow-proof boots and flash our pedicures is the strappy summer sandal, in all its pretty, metallic glory!
At the steep end of the style spectrum this week is the Isabel Marant shiny strappy sandal, cashing in at a bank balance diminishing £550! The stacked mid-heel and metallic strap detail will ensure these beauties deliver a sharp edge to any summery ensemble, but won't leave behind much change for a 99.
On the slightly more frugal side of things, we spied a similar version at Zara, for a not-so-earth-shattering £59.99! The patent sandal promises all the sartorial slickness of its high end counterpart, and even boasts a slightly smaller heel for those not keen on 'fashion feet'.
Which ones will you slip into for summer?
Steep: Isabel Marant strappy metallic sandal, £550, available at Matches
Cheap: Patent sandal, £59.99, Zara