Last Updated on 29th May 2013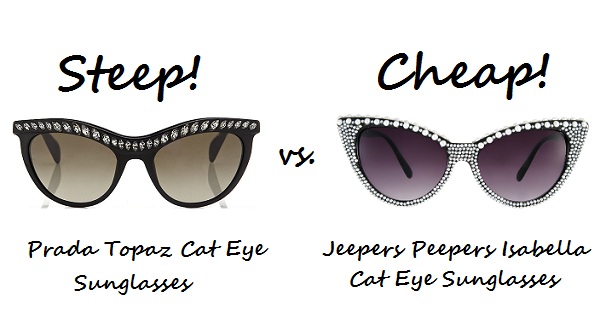 In recent years, sunglasses have been elevated to a whole new level of desirable. From Céline's streamlined wayfarer styles to Prada's super-flattering cat-eye sunnies that suit most face shapes, sunglasses are no longer an afterthought for blocking out the blinding sun.
But why go vanilla with your peeper protectors when you can have them in the jazziest form possible? This week's steep vs. cheap has transported us back to the heady Fifties, when cat eye sunglasses reigned supreme atop prim, fit 'n' flare frocks!
Coming in at the pocket-emptying end of the spectrum, the Topaz cat eye sunnies by Prada would make a standout addition to your sunglasses collection. Yes, OK, we are very aware that sunglasses are prone to getting lost/sat on/stolen, but who wouldn't want to adorn their face with a smattering of sparkling green topaz stones? Anything for Mrs. Prada, as long as you have £325 casually lying around!
Still want a piece of Prada goodness, yet can't quite make the pounds stretch? Fear not, Jeepers Peepers (love the name!) at Asos has the perfect, budget-friendly alternative. For a mere £18, the Isabella cat eye sunnies pack a stylish punch with pretty pearl embellishment, so you won't go unnoticed.
What will it be? Spend or splurge?
Steep: Prada Topaz Cat Eye Sunglasses, £325, available a Harrods
Cheap: Jeepers Peepers Isabella Cat Eye With Faux Pearl Detail Sunglasses, £18, available at Asos