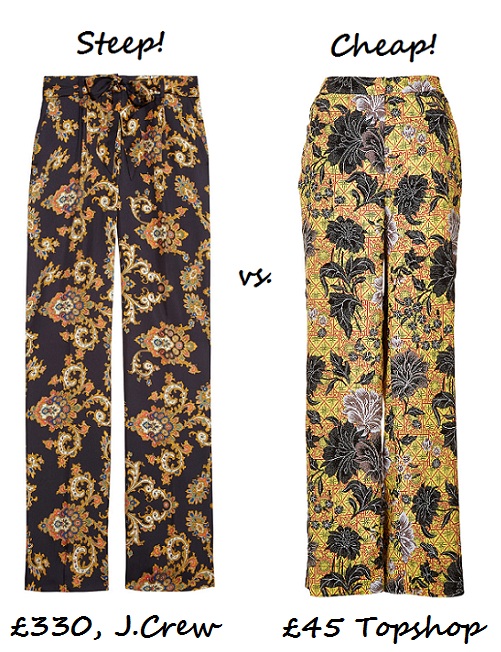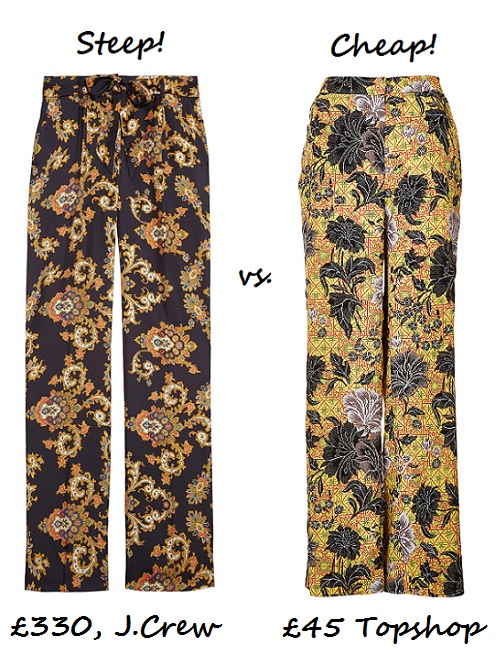 Sick of spray-on skinnies, and want to slip into something a little looser for summer? The printed wide-leg has returned to fashion's front line, and our inner 70s boho girl is squealing with sartorial delight!
However, wide-leg trousers can be a slippery style slide: too wide, and you risk face planting the floor, not wide enough and it looks like you're wearing awkward-fitting culottes. But the wide-leg trouser is back with a vengeance for summer, and this week's Steep vs. Cheap option is guaranteed to be the summer pick-me-up your wardrobe needs.
Sneaking in at the steep end this week is the Paisley-print silk-twill wide-leg trouser from cult American brand, J.Crew. With a move to this side of the pond scheduled for later this year, we can't help but get excited about injecting a little J-Crew goodness into our wardrobe when the store opens on Regent Street!
Paired with a block silk shirt for work, or worn with a crocheted bikini top for the beach, this pretty trouser is a versatile way to work prints. But with a £330 price tag, you're pocket won't appreciate the pinch as much as you do the print!
But why fear when the high street is here! Topshop, the go-to place for every discerning fashionista-on-a-budget, has the perfect pocket-friendly alternative. Cashing in at a pocket-pleasing £45, the Safari floral trouser is a great way to do boho without going broke.
Will you splurge or save? Shop our Steep vs. Cheap options below.
Steep: Paisley-print silk-twill wide-leg trouser, £330, available at Net-a-Porter
Cheap: Safari floral trouser, £45, available at Topshop