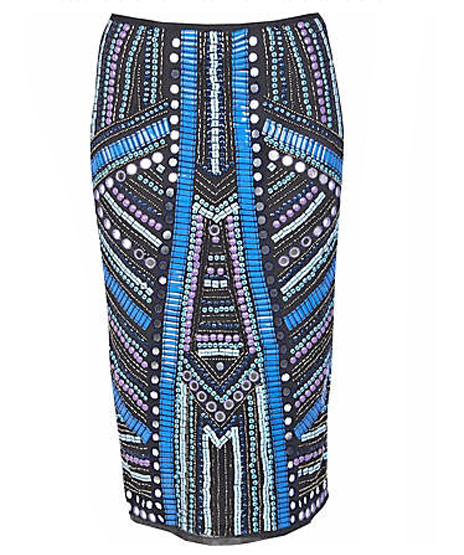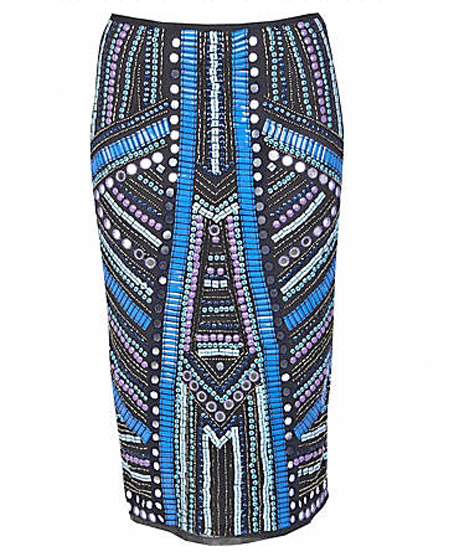 Are you a fan of pretty much anything sparkly, glittery and all out beading-fantastic? Are you looking to uplift your party wardrobe with an item that's sure to be a big favourite this season? Well look no further than this blue mirror embellished pencil skirt by River Island because it pretty much has it all.
Certainly exceeding all the wow factors, this stunning pencil skirt is one of our favourite items from the latest arrivals at River Island, i.e. the 'Best Trendsetter' winner at this year's Lorraine's High Street Fashion Awards. (It's not hard to see why it picked up that accolade!)
This stunning skirt portrays icy-coloured hues that are right on trend this season, and features a gorgeous geometric pattern that mirrors the fabulous design details. Filled to the brim with coordinating beads and light reflecting sequins, this skirt will definitely make a statement at your party.
With so much intricate detail adorned on this garment, we would certainly advise you to keep your top half plain, enabling the embellished skirt to do all the talking. We know where we'll be heading on our lunch break!
Blue Mirror Embellished Pencil Skirt by River Island, £70, River Island