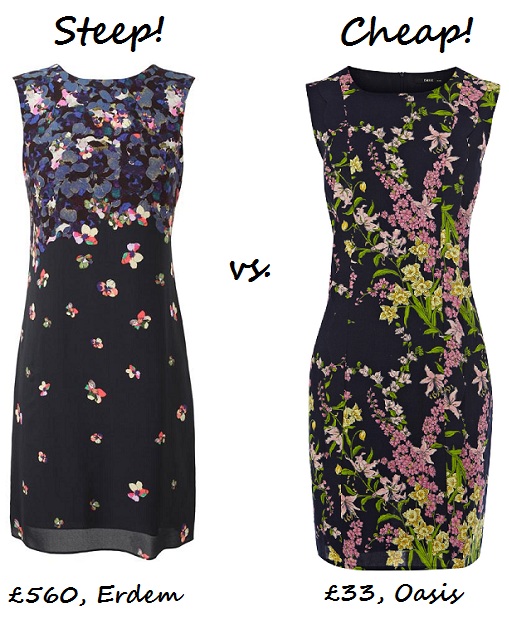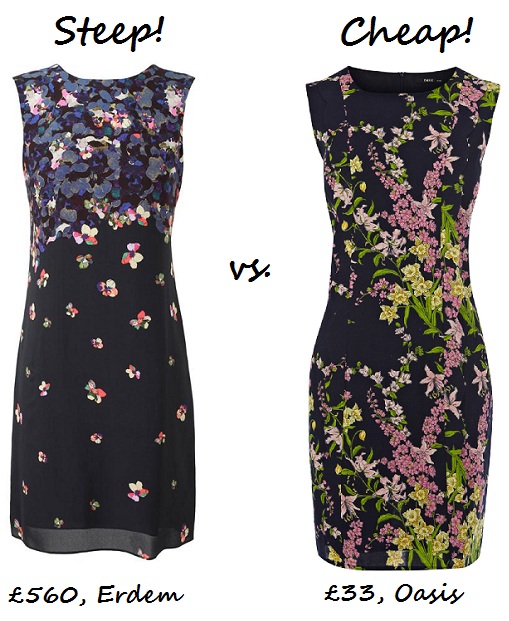 Prints are often mistaken for being too offhand for the office, usually reserved for parties or weekend occasions. But this week's Steep vs. Cheap is about to change all of that.
After searching at the high and low end of the price spectrum, we've tracked down the perfect printed shift dresses ideal for work and play, scoring you brownie points with your boss and fash pack friends!
Coming in at the deep 'n' steep end this week is the Lowry Floral Printed Silk Shift Dress by Erdem. Adorned with a delicate multi-blue and pink petal print, this navy silk shift dress is the perfect high-end hit for work, and great with a pair of colour-pop heels for after hours. But cashing in at a pocket-emptying £560, it's not exactly a dress for less!
However, fear not boardroom beauties and party pretties, because the high street has come up with its own version of this multi-tasking little number. Head to Oasis to snap up the Botanical Lily Shift Dress for a fraction of the price at £33, and fashionably shimmy into your next promotion or after party.
Will you be taking a high end hit, or staying true to the pound stretching high street?
Steep: Lowry Floral Printed Silk Shift Dress by Erdem, £560, available at Browns
Cheap: Botanical Lily Shift Dress, £33, available at Oasis