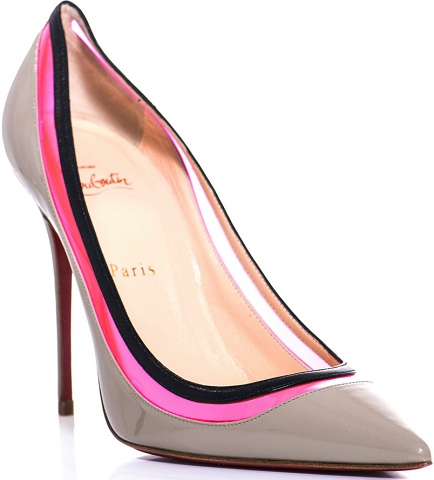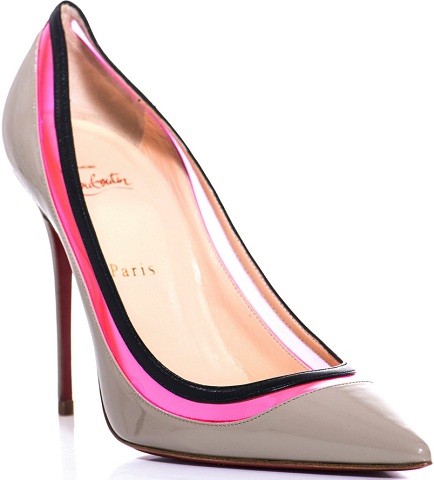 Another lust-worthy shoe, another dilemma: should we, or shouldn't we? Well, they do say, you can never have enough shoes, so…
Lurking quietly on our shoe-dar this week is the 100mm Paulina stiletto from none other than the god of all things fabulously footwear, Christian Louboutin. Seeking to tempt us into its deliciously heeled, Perspex lure, the Paulina heels boast a 4 inch heel (heel lovers, rejoice!), and standout pink Perspex and black leather trim detail.
The mushroom-grey, patent exterior is suitably muted against the bright details, making the Paulina stiletto ideal for different looks, whilst the signature red sole naturally elevates the wow factor to stratospheric heights.
In love? Already hovering over the 'click to buy' button? Well before taking the plunge with Paulina (sorry!), check out our Yay and Nay tips below. You might just love us for it.
Yay
Day-to-night: The subtle mushroom grey patent leather makes the Paulina stiletto a stylish contender for the boardroom. Factor in the dash of pink Perspex, and you're ready to hit the bar for post-work cocktails.
Classic red sole: Nothing beats the satisfaction that comes from slipping into a pair of iconic Louboutins, and the red soles will only up your fashion cred (amongst a set of very jealous fash friends).
Trend-dip: If you're not a fan of the Louboutin Perspex craze, then this is a safer, more toned down way to get in on the trend action. The Paulina heels will probably compliment your winter coat next season, too. Win-win!
Nay
Price: Hmm, these vertiginous beauties are, sadly, accompanied by a slightly dizzying price tag. At £425 a pop, don't forget the all-important cost-per-wear calculation before clicking the Paulina heels home, ladies!
Colour: Although the colour palette is multi-functional, carefully consider how many looks you'll be able to pair the Paulina heels with. A one-wear-then-despair situation isn't pretty on the pocket, or easy on wardrobe space.
Heel height: Ah, yes. The killer (literally) question: how high is too high? Without sparking a foot health frenzy, seriously ask yourself this: can I teeter in 4 inch heels all day? (The answer in our heads: Yes, but ouch).
Christian Louboutin 100mm Paulina Shoes, £425, available at Matches Fashion.