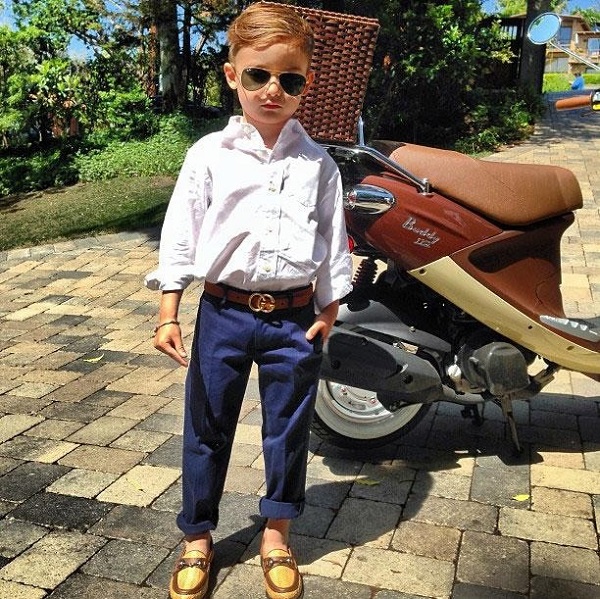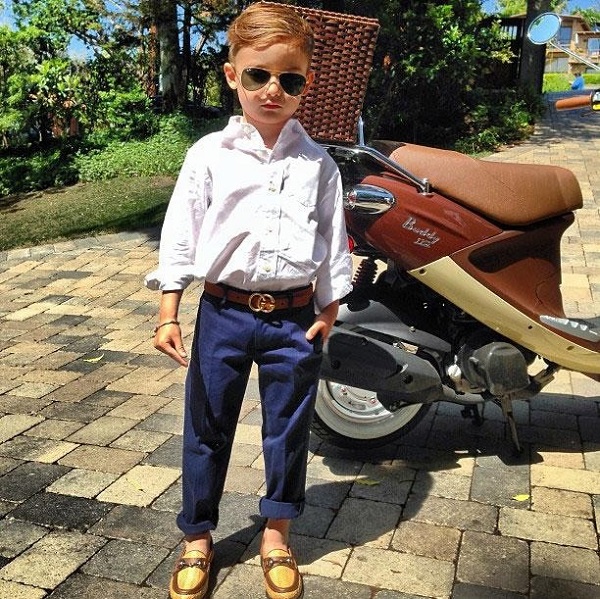 OK. We're pretty much speechless. Dumbfounded. Beyond words. Because we've just witnessed a miniature reincarnation of, maybe, Lord Disick, Justin Bieber and Danny O'Donoghue all rolled into one adorable and well-clothed 5-year-old.
Meet social media sensation, Alonso Mateo, the kid-poser from Laguna Beach, who's effortlessly making waves in the oversubscribed world of Instagram. Executing painstakingly put together looks with the ease of a seasoned Brad Kroenig, Alonso name checks brands including Acne, Jeremy Scott, Dolce & Gabbana and All Saints in his personal walk-in wardrobe (yes, walk-in!).
Alonso acquired quite the global fashion following (127,000 followers on Instagram, and counting), after his freelance stylist mother started posting pictures of her son's looks on the popular social media site. The child style star, who's giving a bunch of A-list tots a run for their (parents') money, often picks out his own looks, and poses with such professionalism, you'd think he was a wash cycle shrunken entity from a Testino shoot.
But in this environment of over sharing, and with some of the disturbing precedence before a story like this (remember our rant about 10-year-old child model Thylane?), we're still trying to figure out – after cooing and awwing over Alonso's shockingly impressive camera credentials – how we feel about this mini man. Although that term in itself is a little disturbing, are the pictures really doing any harm?
Expectedly, the account on which his mother posts images has been subject to a tirade of criticism, and sadly, abuse from Nation Selfie, with several users branding the family materialistic and the 5-year-old a 'spoiled douche'. But come to think of it: which parent doesn't like to dress their child well if they can afford to?
Let's consider this in the context of fashion editorials. Exploitative on a wide scale, the case of Thyalane Lena-Rose Blondeau was unfortunate because hers was an engineered move; something done purposefully to make her look beyond her tender 10 years. Alonso's is a more naturally occurring 'fashion phenomenon', with images taken on days out with his parents, or in the privacy of his own home.
If we begin to write-off puff-chested proud parents for taking pictures of their impressively-clad children as creepy photographer activity, we're opening the floodgates for some disturbing discussion. Like placing your cute child's picture on your office desk or uploading an innocent family holiday album to Facebook calls for some serious re-thinking, never mind restriction.
Whilst most mothers and mums-to-be are hoping their sprogs are born encoded with Alonso's sense of style, we're going to take our hats off to his parents for curating a wardrobe so drool-worthy, we're considering giving our partners a hard time about theirs.
Now, with bated breath, we wait for the 'Trippy in Tisci' Instagram war between Alonso and North West. Hashtag uh-oh.
[Image: The Cut]