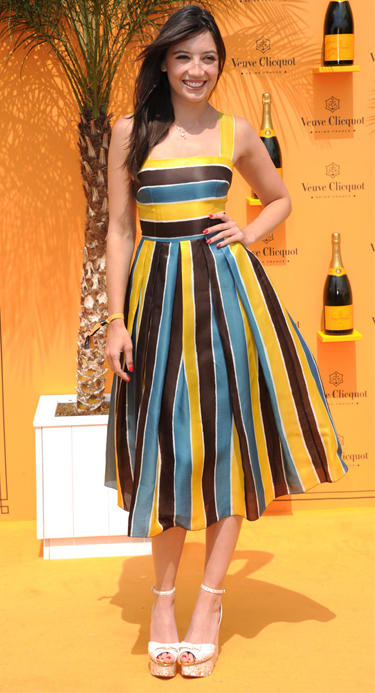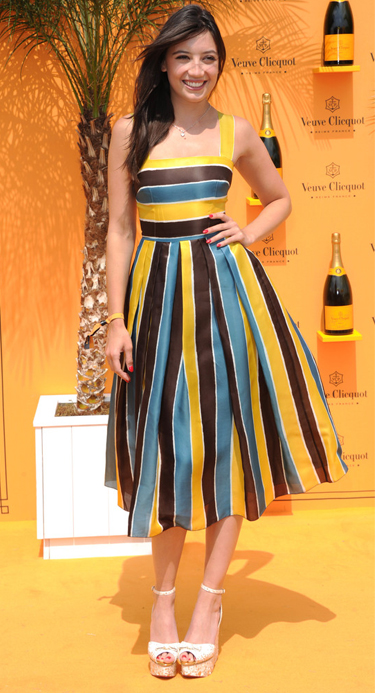 What's blue, black, yellow and stripy all over? If you guessed hot British model Daisy Lowe then you'd be correct!
Daisy looked gorgeous, young, contemporary, and totally ready for summer in an on-trend multi-coloured stripy dress from the Dolce and Gabbana spring/summer 2013 collection as she attended the Veuve Clicquot Gold Cup celebrations.
Her glossy raven looks offset the colours of the dress perfectly, and her winning smile was just that – a true winner!
She teamed her dress with a fabulous, glittering pair of white Charlotte Olympia Miranda wedges from the Lovely Bubbly for Veuve Clicquot collection – the very same ones we treated you to a sneaky pic of back in May when we previewed the collection for ourselves.
And whilst we're on the subject of wowsome wedges, we urge all men who were so anti-wedges to take a look at this pic of Daisy, as we feel they might just change their opinions.
We think sexy, unflawed style definitely runs in the Lowe family, don't you?