Last Updated on 24th July 2013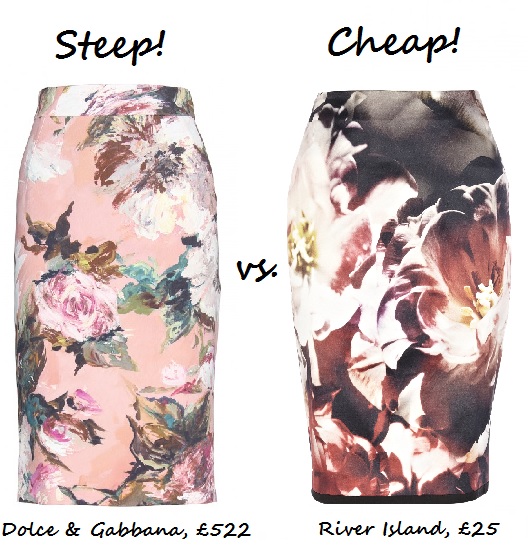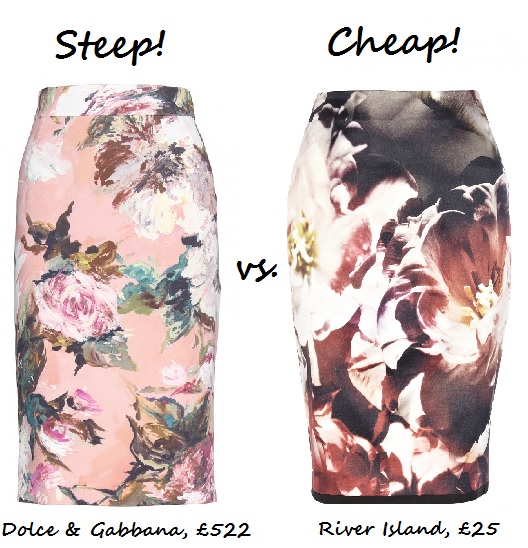 Douse a boardroom staple in a statement floral-print and next season's hottest hue, and what do you have? A printed pencil skirt that screams "wear me now", that's what! And lusting after pencil skirts we are, as this week's (price) tag-off is setting a new record for our love of prints!
Having graduated from elementary, ditsy florals, it's all about the hyper print: large, romantic florals swept into a painterly or digi-print haze, and we can't stop ogling this week's Steep vs. Cheap options.
In at the droolworthy designer end, the floral-print twill pencil skirt from ever-romantics Dolce & Gabbana is a hard-hitter when it comes to clocking up style brownie points. Perfect for punctuating your work uniform with an uplifting shot of print, and equally as fabulous for a night out, heads will turn in this form-fitting pencil number! But cashing in at £522, don't complain if your purse feels lighter post-purchase.
Unable to kick your penchant for a posh pencil skirt, but want to avoid bankruptcy at all costs? High street haunt River Island is here to help! With an equally fabulous version of the Dolce number at a pocket-pleasing £25, the pink floral-print pencil skirt will deliver the style hit your after, without breaking the bank. Win win!
Will you splurge or save?
Steep: Dolce & Gabbana Floral-print twill pencil skirt, £522, available at My Theresa
Cheap: Pink floral-print pencil skirt, £25, available at River Island