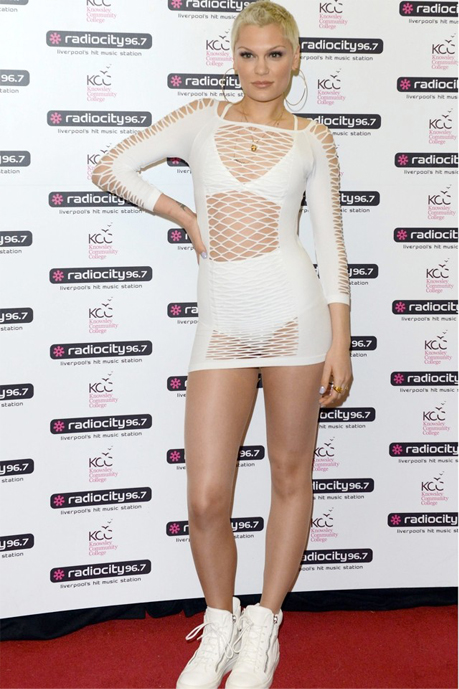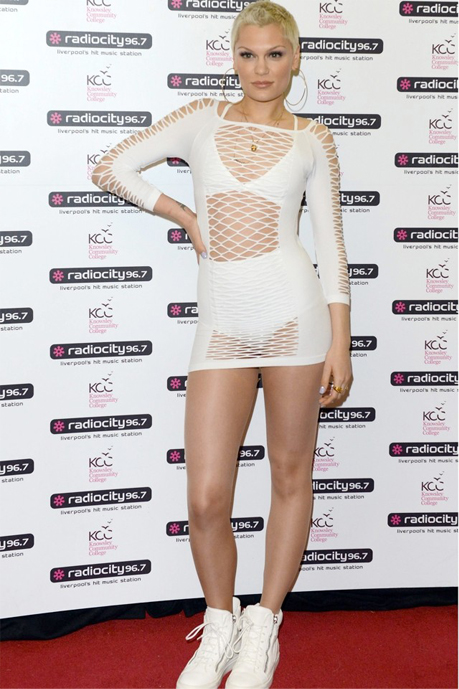 Was Jessie J's latest look at the Radio City Live concert in Liverpool trashy or totally trend-tastic?
The former The Voice judge tried her hand at that hard-to-pull-off fishnet trend at the weekend, and we're a bit on the fence about it if we're being honest.
Miley Cyrus did it well at this year's Met Gala when she embraced the punk theme in her fishnet Marc Jacobs dress, while Taylor Momsen has got it oh so wrong on so many occasions. And we think Jessie J is somewhere in the middle.
Showing your underwear is pretty much acceptable these days (Kristen Stewart actually made it look pretty classy in Erdem last year) and it sure beats not wearing anything underneath at all, so it's not the visible undergarments we have a problem with.
While we are totally envious of Jessie's toned bod and think she is rocking her blonde crop like a true pro, we've come to the conclusion that it's the colour of the ensemble teamed with large hoop earrings and white trainers that's causing the offence. Less bling and some colour contrast might have changed our opinion. Who's with us?