Last Updated on 21st August 2013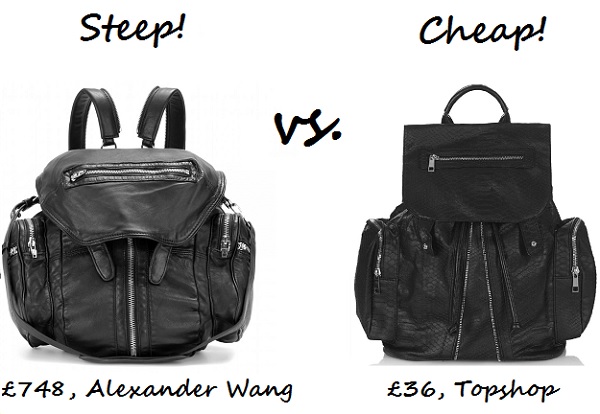 Officially too cool for school, the backpack is back with a vengeance. Sans heavy biology and French textbooks, the style set have taken to rocking the backpack in the fashion playground, even making it their best carry-all buddy during a demanding fashion month schedule.
Thanks to easy-on-the-eye formations, ranging from leather to print and luxe hides; forget grey uniforms and pigtails, and stick to sporting the backpack with the coolest, sleekest of ensembles: pair with a mesh vest, light knit, skinny jeans and wedge sneakers for the gym-girl-gone-haute look, or add a tougher edge to a feminine dress, by mixing a leather backpack with a chunky boot.
However you choose to carry the backpack let this week's crave-worthy steep and cheap options inspire you.
Cashing in at a wholesome £748, the Alexander Wang Marti leather backpack is set to be a certified sell-out piece! An easy option to incorporate in to your wardrobe, thanks to a go-with-everything colour; we love the street vibe, buttersoft leather and plenty of storage space to carry all your essentials – zips galore!
On an equally stylish footing (although with a far more sensible price tag) is the Snake zippy backpack from trusty high street haunt, Topshop. The faux snake textured upper, equally practical roomy insides and wear-with-everything appeal makes this backpack a sure-fire addition to our (ever increasing) bag collection!
So what will it be? A designer crush, or will you go for the equally stylish yet pocket-friendly option?
Steep: Alexander Wang Marti leather backpack, £748, available at My Theresa
Cheap: Snake zippy backpack, £36, available at Topshop