Last Updated on 10th June 2016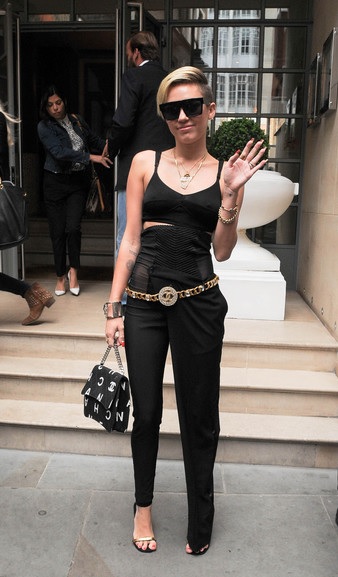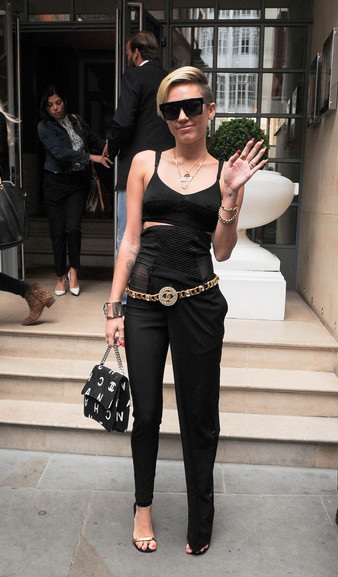 She may have graced the cover for the October issue of Harper's Bazaar in a gorgeously understated Burberry Prorsum number, but that's not getting Miley Cyrus off the hook as Worst Dressed of the Week!
When she wasn't looking all demure and crimson-lipped on a glossy cover, the twerking enthusiast was actually playing dress up as a fashion casualty! Miley recently took to the streets of London in a rather peculiar looking Jean Paul Gaultier hybrid trouser, which made for some interesting viewing.
Part sheer legging, part wide leg trouser, she continued the horrifying all-black outfit party with a matching bra top (a regular occurrence in Miley's uber-eccentric (read: barely visible) wardrobe), face-swallowing sunglasses and lashings of gold jewellery.
Looking like the lovechild of a Goth and a gangster (no, really), Miley finished off her 'special' look with a rather ostentatious, dare we say it, Chanel handbag. Not one to take the subtle approach, the ultra-chunky gold medallion belt pretty much stretched our sartorial tolerance level to the limit!
We're all for Miley's wacky wardrobe of late, but please quit the visual trickery and either don trousers OR leggings, not both. A pair of skinny black jeans or wide-leg black trousers could've turned this look around, with a slash of sexy midriff sans all that stomach-turning bling, to top it off nicely. Whaddaya say?
[Image]