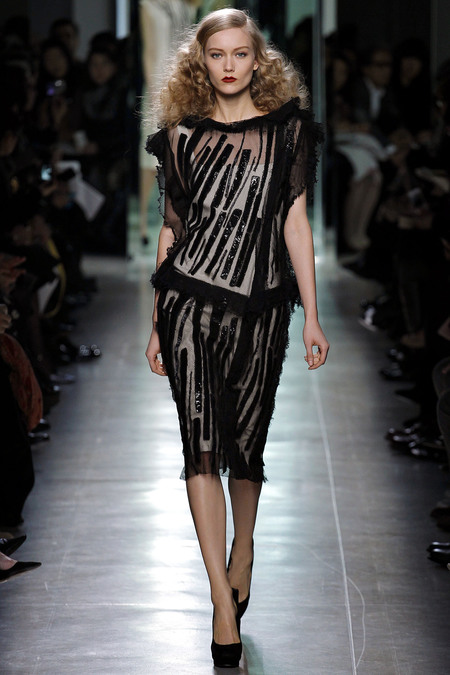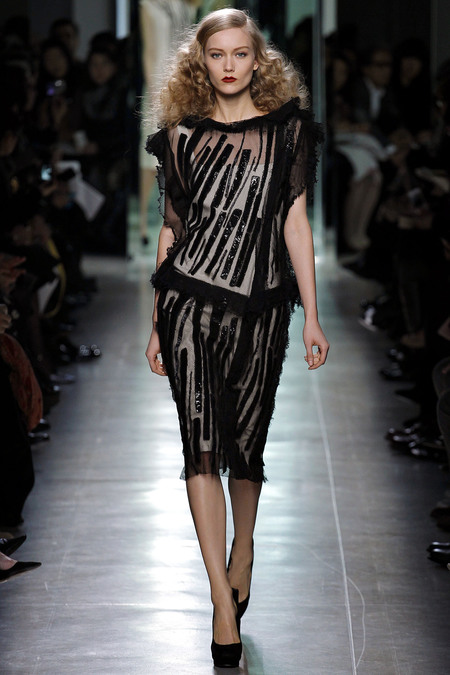 We've been pretty preoccupied with London Fashion Week recently, but that doesn't mean we've forgotten about collections of the past. The autumn/winter 2013 season is still as imprinted in our minds as ever… and thankfully the Bottega Veneta collection in particular isn't going away any time soon.
"The collection is about proportion, precision, ease, and the simple beauty of the material," said Creative Director Tomas Maier.
We couldn't have put it better ourselves; the perfect way to sum up the autumn/winter 2013 collection. Voluminous silhouettes are a recurring theme of the collection; although dramatic silhouettes shouldn't be confused with relaxed and shapeless silhouettes. Au contraire, these shapes are all about emphasizing the female form, accentuating the best parts of a woman's body with ease. And if that isn't one of the most important things of any range of clothing then we don't know what is!
Wool in its many formats is the key material of the collection – as you would expect from an A/W line  – but if you think it's an unsexy material that is just reserved for your grandma then you're sorely mistaken. Wool just got sexy. Some might even go as faLight to heavy flannels are offset with leather, silk, satin, or lacquered straw, with the idea of print and embellishment portrayed via the felting and vertical lines in the cutting. The colours that feature in the collection are kept on the dark side, with a hint of vibrancy thanks to the red and yellow hues. Black, slate, smoke and pearl white are offset by vibrant red, yellow and curry shades.
And it's not just the women's collection which we love; the menswear pieces are just as noteworthy.
"We wanted to explore the iconic men's suit and the formality and competence that fine tailoring conveys," explains Creative Director Tomas Maier. "The challenge, of course, is to address the complexity and speed of today's world, and the individuality of our customer. So the look is sober and buttoned-up, but at the same time, there is a lot going on. No fuss, no gimmicks, but a richness that reflects the world we all work in."
And in a way, we think the womenswear collection kind of reflects that idea too. We wait with baited breath for the spring/summer 2014 collection.