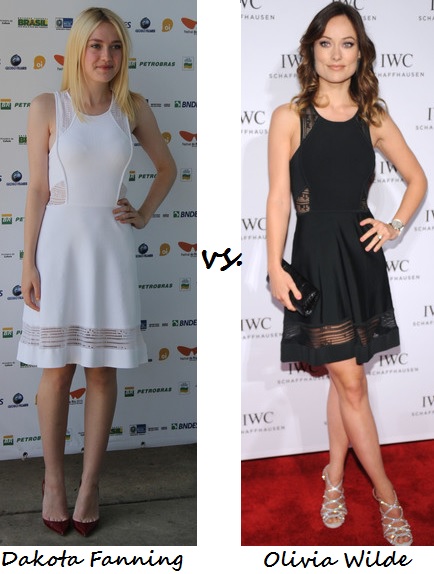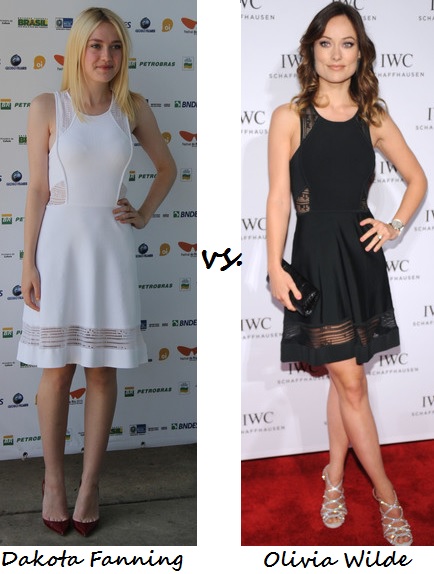 This week's fash-off is quite the monochrome style match. With Dakota Fanning in white and Olivia Wilde in black, both ladies donned the A.L.C. Petra dress months apart, complete with head turning effect.
First up to slip into the form-flattering dress was Olivia Wilde, who took the classic LBD route on the red carpet at the For the Love of Cinema event at the Tribeca Film Festival, back in April. Accessorising with a black clutch and Tabitha Simmons Dee sandals, neutral make-up and softly tousled hair nicely rounded off Olivia's look.
But giving the gorgeous Hollywood darling a run for her money was Dakota Fanning, who went with the white version at last month's Festival du Film International of Rio de Janeiro. Sleek hair and barely-there make-up was on offer, whilst an unexpected flash of colour was delivered courtesy of deep red, patent-leather Christian Louboutin Iriza pumps.
So, whose look will be victorious in securing this week's coveted title of style champion? Given our penchant for LBDs, we'd love to say Olivia, but, a twist on a clean look is just as welcome. Therefore, we duly crown Dakota this week's winner – especially when it comes to playing down the angelic tones of a white look. Those red Loubs has us at hello!
Agree with our style verdict? Tell us your thoughts below.