Last Updated on 4th November 2013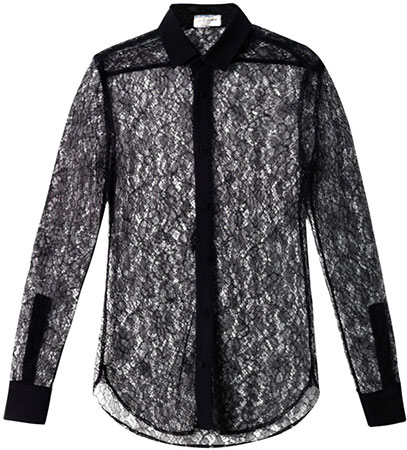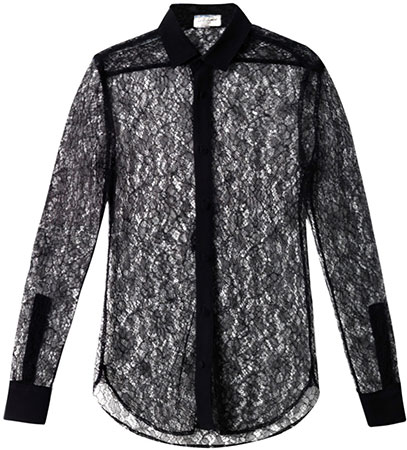 The holiday season has officially arrived, and planning your festive wardrobe demands putting those honed sartorial skills to good use! After all, that LBD you wore to the last office party just won't cut it. Again.
But, just for a moment, let's move away from traditional soirée style, and look to the more daring side of eveningwear. Yes, you guessed it: seductive flashes of flesh, plentiful lace and a sensuous spin on formal party attire – without a dress in sight!  Allow us to introduce the silk and lace shirt from the fashion house that knows how make a woman ooze sex appeal, demurely: Saint Laurent.
Touching, ever so elegantly, on the gothic trend for autumn/winter '13, the sheer lace and satin detail bring a softer, more feminine edge to this party-perfect shirt, making it an ideal alternative to the tried-and-tested LBD. Just pair with tailored pants or a leather mini and heels, and you're good to go!
Can't quite keep yourself from 'clicking' home this Saint Laurent beauty? We don't blame you, but do check out the reasons were saying Yay and Nay to snapping it up, below:
Yay
Day-to-night appeal: Although nothing could be better than sipping cocktails in this shirt, don't limit yourself to wearing it on your next night out. Make it more office appropriate by slipping a black cami underneath, and wear with a matching blazer and tailored trousers.
Trans-seasonal investment: Lace is a perennial party favourite, and need we say more about the longevity of the colour black? You'll wear this shirt for several seasons to come.
Elegant way to do sheer style: Afraid of overexposure when channelling those wispy models, who do so well to avoid the dreaded 'boob slip' in the daintiest of tops on the runway? This shirt tackles all those issues, and still leaves you feeling covered up.
Nay
Price: Coming in at a whopping £725, we're afraid this pretty little number will leave a not-so-pretty dent in your pocket…
Delicate: Ah, yes, those three words you dread hearing: Dry Clean Only. Better set up that dry cleaning fund you discussed with your BFFs, then.
Winter woes: As much as you'd like to believe you can tackle sub-zero temperatures for the sake of fashion, the promised wintry weather will probably limit the wear you get out of this shirt. Of course, covering up when heading out is an option, but that would defeat the purpose, really. After all, nobody puts baby Saint Laurent in the corner under a jacket.
Saint Laurent silk and lace shirt, £725, available at Matches Fashion