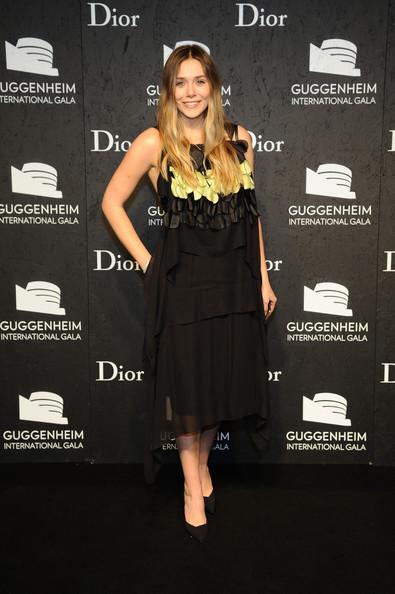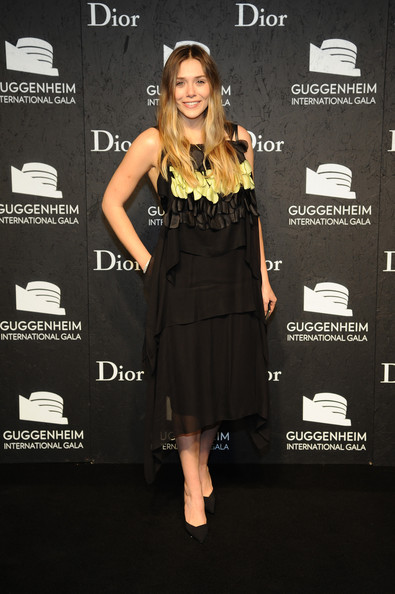 Very rarely does a couture dress interrupt our style radar to inform us of its not-so-eye-pleasing presence. After all, it is couture, and its supposed to shock and inspire in equal measure. But, Elizabeth Olsen's recent appearance in Dior couture was nothing short of a sartorially disappointed sigh.
Elizabeth attended the Guggenheim International Gala in New York City, earlier this week, and sported a black, below-the-knee Dior Couture dress from the spring 2013 collection. The quirky LBD featured subtly tiered layers and a stark black and soft lemon hued petal adornment across the chest.
When we spotted the dress on the runway – styled on a model with a slicked-down pixie crop and striking red lips – we placed it in the red carpet category for A-listers willing to take a style risk – a good risk, at that. But, it was Elizabeth's styling, not so much the dress, which let her look down.
Pairing the couture dress with simple black pumps, Elizabeth's choice to wear her tousled hair down worked against her, as it ended up covering a lot of the chest area detail. Make-up was sheer, and accessories were zero, which made the overall look appear slightly bridesmaid-gone-wrong frumpy, than fashion forward a with Raf Simons approved slant.
What say you, fellow fashion lovers? Thumbs up or down for E.Olsen's non-trad little black dress?
[Image]