Last Updated on 9th December 2013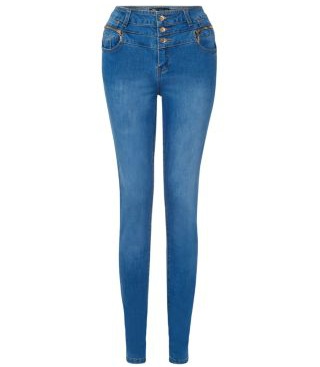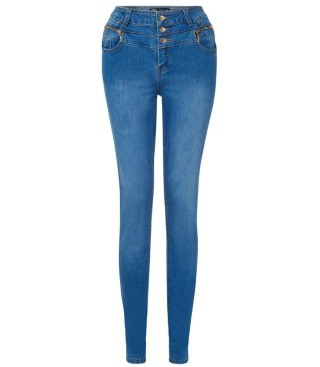 If you are a woman that keeps up with fashion trends, you know that fashion loves to go retro. These revised retro looks bring a piece of fashion history into the modern fashion world. One such piece of fashion history is the high waist jean design. High waist jeans can be very attractive, providing a unique appeal in comparison to other styles of jeans. The challenge is knowing how to wear these type of jeans.
When it comes to low rise jeans, it is obvious that they are meant to provide the opportunity to show off a little midriff. Traditional cut jeans are designed to be versatile. With high waist jeans, you can easily lose the intent of the design. High waist jeans are designed to accent a thin waistline, or in some cases, create the appearance of a thinner waistline.
How you wear high waist jeans will determine whether you get all that you can out of them. A simple rule of thumb is not to completely cover the waistline with full length blouses.
Multiple Styles
The versatility of high waist jeans doesn't stop at the waist line. According to A Model Recommends, there are numerous styles to choose from. Depending on your particular body style, you can choose form straight cut, boot cut or the ever popular skinny cut. Skinny jeans seem to be the go to style of jeans for most women these days. The truth is they are not the best look for every type of body style. For instance, petite women actually look better in straight cut jeans. Straight cut jeans are actually characterized by falling straight down from the knees to the floor. Although natural rationale might suggest that skinny jeans would be perfect for petite women, the truth is that they make petite women look too small.
The key is to understand your particular body type and then find out what look will flatter your figure best. If you tend to look great in boot cut jeans, you will look great in high waist boot cut jeans. The difference is simply the added element of the raised waistline.
Accentuate the Best Feature
The high waist design is meant to accent a thin waistline or enhance the appearance of a thicker waistline. The last thing that you want to do is conceal this feature by covering it with an oversize blouse or sweatshirt. Instead, choose a more fitting shorter cut blouse that will fall just over the top of the waistline of the jeans. Throw in a nice set of heels and you will be surprised at the look you will be able to accomplish. The raised waistline, accompanied by a pair of nice heels, creates a lengthened appearance – making you look taller. According to eBay, if you don't have a short cut blouse, you will definitely want to tuck your blouse or t-shirt in; failing to do so would make high waisted jeans pointless. Chictopia, reveals that there are endless ways to accessorize and accentuate the high waist feature of these style jeans.
Sweater and Cropped Top Blouses
Sometimes you will find that you are not looking for something that will fit with your high waist jeans – instead, you will find that your jeans will provide the perfect match for those sweaters and short cropped tops that you can't seem to ever match with anything. High waist jeans present the perfect opportunity to pull those tops and sweaters out. These jeans work great with an open sweater and cropped blouse.
If you are a curvy girl, try printed silk tops, which will help celebrate those curves.
The Preppy Look
High waist jeans are perfect for pulling off the preppy sophisticate casual look. Even with a pair of ballerina flats, these jeans offer a look of sophistication and elegance. Much in the same way that low rise jeans seem as if they were designed to create an aura of sexiness, high waist jeans seem to have the power to make a woman appear quite refined.