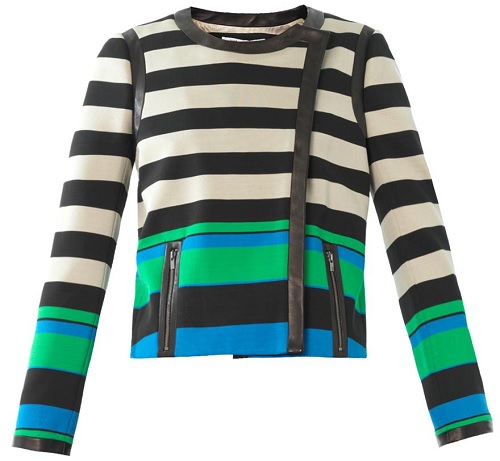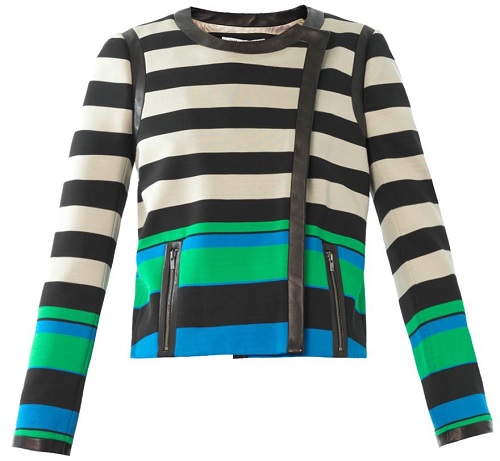 Seasons and trends may come and go, but a classic jacket will surely stand the test of time. If the wear-with-anything appeal doesn't pull you in, then an everyday jacket is your best bet for 'pulling together' an outfit, however casual it may be.
This week, we're pondering the purchase potential of the Diane von Furstenberg Esther jacket (£541). Easy-on-the-eye, thanks to the heady mix of print and flattering colour, we won't blame you for dreaming up countless outfit ideas.
But, hold fire! Before pushing it into your e-basket in a want-it-now hurry, do check out the reasons we're saying yay and nay to the Esther jacket below:
Yay
Great cover up option: If you're sick of sporting a winter coat, now's the time to invest in a lighter, mid-season buy. This resort collection jacket will serve as the perfect go-between, with added punch.
Luxe detail:  We love everything from the cleverly concealed zip fastening to the black leather-trimmed edges, and the handy pockets, too!
Work-to-party appeal: Slip the Esther jacket over a formal work dress, and then switch to skinny jeans and heels for after-hours cocktails. Easy!
Nay
Statement piece: The colour-block detail paired with the stripe print works to great effect, but it could also mean this statement jacket's wow appeal could land it in the one-(or two)-wear-then-despair pile?
Price: You're looking at dropping a not-so-light sum of £541 on this look-at-me piece, so think hard about how it will fit in with the rest of your wardrobe.
Shape: Although we love a boxy shape for a coat, in jacket form it's not the most flattering silhouette. Do try out a boxy-fit item of clothing to see if it suits your body shape before clicking this beauty home.
Diane von Furstenberg Esther jacket, £541, available at Matches Fashion.